John Haremza – Javita Top Earner Interview
December 6, 2012
By Team Business For Home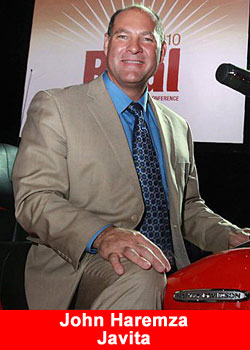 John Haremza lives in Fargo, North Dakota, USA is married 24 years to his wife Jana and has 2 beautiful daughters. John is the master distributor for Javita an 18 month old company that has seen sales increase by 500% over the last few months.
After he graduated high school, John got a job as a machine operator at the potato chip plant. When he was promoted to maintenance manager he thought that this $22,000 a year job was the best job he could ever hope for. Then he was introduced to Network Marketing and his life changed forever.
John's story is one of those American rags to riches, from adversity and obscurity to a life of dreams. Now after spending 23 years in network marketing John has earned over $12 million.
He has been responsible for product sales of over $500 million. His teams have earned over $200 million in commissions and he is featured in numerous publications and has produced 100's of sales tools to support his teams.
As John says, "My introduction to network marketing was typical. I was invited to a friend's house to check out something to do with water filters. I assumed he wanted me to evaluate the product or build a display. There was a breakdown at the plant so I arrived 2 hours late still wearing my work clothes and safety glasses.
The two suits from Minneapolis were not impressed by this guy who arrived late smelling of potato chips. There were five of us there that night but I was the only one who got excited and wrote a postdated check for $480. I decided then and there that no matter what I was going to find the $5000 I needed to be a Direct Distributor.
The reception I got at home was not enthusiastic. We were going to be married that month and my fiancé was not happy. I got my dad to reluctantly co-sign a $5000 loan and jumped in with both feet.
After 6 months part time I decided to go full time. Everyone I knew from family to friends to co-workers at the plant, even management assumed I had lost my mind. I still remember sitting in the break room and having fellow workers tell me I would fail".
I remember saying You may be right, but the worst that can happen is I have to come back and get a job like you have. As John say, "there was an awkward silence, you could have heard a pin drop".
Take a few minutes and watch John's amazing story:
The John Haremza Story
John, were you successfull right from the beginning?
I was certainly not successful from the beginning in fact I had no idea how network marketing worked. I loved the idea of buying a water filter for $120, selling it for $179 and making a $59 profit. I actually went door to door that first cold December selling those filters. My brother wanted to join me and we made a pack between us that we would not tell anyone else. Why create our own competition?
After I sold that first filter it seemed to get more difficult but I could not afford to lose $5000 so I kept going door to door.
Several months later I went to my first network marketing event and found out all about leverage and recruiting. As John says "I learned to sell the opportunity along with the product and then I began to grow an organization". Now I was excited. I did not know what I was talking about. I'm sure the people I was talking to did not know what I was talking about but I was so excited they wanted to join. That's the essence of network marketing. It's not what you say; it's how you feel about what you say. As Zig Ziglar said, "Set yourself on fire and people will travel for miles to watch you burn". Within 18 months John became one of the youngest National Marketing Directors for the company.
John was there four years and learned two critical lessons; the importance of timing and consumable products. John fell in love with the industry and found a younger company with consumable products. He spent the next 12 years there. He reached the top in 16 months and was one of the top 20 earners. He served 3 terms on their Board.
This business changed my life in ways that were beyond my wildest imagination but it has not been a bed of roses. I know the 90/10 rule very well (90% of what you do is wasted, 10% will change your life beyond anything you ever imagined). The problem is that no one knows what the 90% is or what the 10% is so you have to do it all.
I have flown into cities to do a meeting and no one showed up.

I have seen my company and my check devastated by sellouts and changes.

I watched my monthly check go from $40,000 to $12,000 and then to $120,000.

I have spent thousands of dollars supporting 'leaders' who just vanished.
John Harmeza Family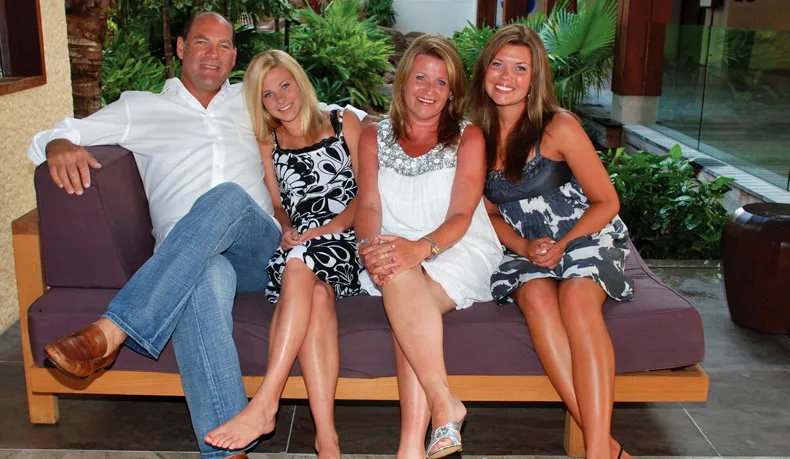 Why is personal growth so important for you?
I believe that at least 90% of my success in network marketing is directly attributable to my commitment to personal growth. How else could a dyslexic maintenance manager, from a small town in Minnesota, deeply in debt, living in a 12×72 Garland trailer with no training at all become a millionaire with three homes and friends on every continent?
My personal growth journey started the day I saw an advertisement that Zig Ziglar was going to be in Fargo. I had no idea who he was but somehow I knew I wanted to hear what he had to say. Zig told his flea trainer story and I was out of the jar forever. I'm sorry that Zig has passed on. His legacy will live on in countless transformed lives.
Personal growth is a must. I began to study legends such as Zig Ziglar, Napoleon Hill, Jim Rohn and Earle Nightingale. Their lessons and philosophies led me to my fortune. As Jim Rohn always said, "Work harder on yourself than you do on your job. Work on your job and you make a living, work on yourself and you can make a fortune".
What works in Network Marketing in your experience?
The things that work today are the same things that worked 10 years ago, 20 years ago even 50 years ago. There is nothing new in network marketing. It's all about an excited passionate person who believes in what they're doing. Be skeptical of anyone who tries to convince you that there are shortcuts to success.
It's all about someone sharing their beliefs, using tools, following up with 3way calls, using conference calls and attending events. You'll see more of these time tested approaches on my training page .
Right or almost right? I have met a lot of hard working committed people. Some have made fortunes others very little. The difference is between doing things right or almost right. It's the subtleties of our business, those little differences that can take someone from struggling to thriving.
My philosophy Small Steps to the TOP came out of this journey. Never under estimate the impact of every decision you make regardless of how insignificant it may seem at the time. It's as simple as talking to someone or not talking to them, paying attention to someone or ignoring them, going to a meeting or staying home, following up with someone you were going to walk away from, being on a call or watching TV. It's everything, everything, everything you do. As Jim Rohn says "It's not what happens, what happens, happens to us all. It's what we do about what happens that makes the difference".
Eric Worre Interviews John Haremza
What is your advice for a newbie in the MLM industry?
I have 3 suggestions for someone just starting.
1. There are 2 ways to build your business, fast or slow. Fast works better. You want to create an exciting story, a story that excites you and attracts others. Remember you learned everything you need to know in kindergarten, it's called show and tell.
2. It's not what you say it's how you feel about what you say. People buy people and it's your passion, posture and belief that will influence others to take a serious look at what you have to offer.
3. There are no shortcuts to success in network marketing. Like any endeavor your business requires commitment and consistency of effort every day, every day, every day. I've never known anyone who failed but I've known many who quit.
As Jim Rohn said, "Beware of anyone who says he has manufactured antiques. There are no new fundamentals". Stay focused on the fundamentals. Use tools and be the messenger not the message. Use 3way calls every time, all the time. Be at all events including conference calls. Your job is to keep your members in one more day. Everyone counts and you never know who someone could lead you too. Keep everyone you can in one more day. That day could turn into a lifetime.
How do you support your teams?
Remember when someone says 'yes' your job is just beginning. It's more difficult to keep your new people in and active than it is to bring them in. You have to be their life support, their coach, their mentor, their number 1 cheerleader. You have to keep them breathing until they get their feet on solid rock.
The only way to do this is to provide an environment of success and keep them plugged in. Teach them by your example to be on the wake-up calls, the conference calls and at every event.
I tell people that there are two reasons to be on our conference calls. The first is if you have a prospect. The second is if you don't have a prospect.
The teaching is in the doing. Everything you do sets an example of what others think they have to do. They will pick up your good habits as well as your bad habits. If you're not on the calls attending events, prospecting and using the products you cannot expect them to.
The all-time best way to teach the subtleties of success in network marketing is with 3way calls. There is no better way to mentor your new member.
| | |
| --- | --- |
| | |
| The Greatest Networker Book | Going to the top! |
What are your goals and plans for the future?
After 23 years and $12 million I have never been more excited than right now. I'm totally convinced that Javita and weight loss coffee will be the biggest thing I've ever done. I'm laser focused on helping others see the incredible success they can obtain.
I'm teaching the knowledge and wisdom I've learned along the way so that others can experience the transformation and freedom that network marketing offers. I want to pay it forward and have at least a small part in helping others have what I have.
In my opinion this is the only business that provides a path for the everyday person to experience absolute, total lifetime freedom.
Why are you teaming up with Javita?
John has known the founder of Javita, Stan Cherelstein for 17 years. They met when Stan was CFO then CEO then President of Rexall Showcase. Stan has an affinity for network marketing and a real good understanding of our special industry. Shortly after leaving Rexall Stan founded a nutritional network marketing company with products that appealed to health conscious baby boomers. That company has done $350 million in sales with John as master distributor.
Despite the success of that company Stan wanted a company that would thrive in all economic times, addressed a broad market and had a global outreach. He wanted a company that everyone could be successful in regardless of their current circumstances.
How is Javita's Timing?
Javita is a rare ground floor company that was founded with a solid infrastructure, no debt and an experienced management team. Stan's management team has been with him for 17 years.
Just about everyone drinks coffee everyday so they are not spending additional money. There is no product resistance to a product that everyone knows and no one ever forgets to drink their coffee.
Weight loss is a highly emotional topic. As John says, "I have fought the weight loss battle my whole life and every diet made me miserable. Most of us can't make the lifestyle changes we need to lose weight so the idea of drinking coffee and losing weight was very, very attractive".
Javita fits every age bracket, every lifestyle and every income category. I was blown away when my daughter, a senior in high school, came home with $80 for boxes of weight loss coffee she sold.
Timing is so critical. True wealth and fortune are earned by those who get positioned early before the whole world hears about the business. I've always known that timing is a critical factor no matter what industry.
Javita's timing is unique, ground floor with a rock solid infrastructure.
Contact details

John Haremza:
www.smallstepstothetop.blogspot.com
www.facebook.com/john.haremza.7
Javita Top Earners est. earnings:
[private_platinum]
[/private_platinum]