Jusuru Int. Accepted As DSA Member
December 8, 2012
By Team Business For Home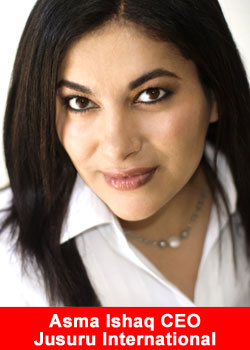 Jusuru International has been accepted as an active and official member of the Direct Selling Association
After completing a minimum one-year pending period during which its marketing and business plans are rigorously reviewed to ensure compliance with all provisions of the Direct Selling Association (DSA) Code of Ethics, Jusuru International, Inc. has been accepted and approved as an official member of the national trade association that represents the leading firms that manufacture and distribute goods and services sold directly to consumers.
As an autonomous trade association, the DSA thoroughly and routinely audits a member organization's business, operations, and marketing practices to the strictest self-regulatory codes, assuring its consumers and independent representatives that they are being represented by a company with ethical practices. The DSA Code of Ethics includes a range of responsibilities including truthful disclosure of product price, quality, and information extending to expressly prohibiting deceptive or unlawful recruiting practices and misrepresentation of earnings or sales potentials.
"The members of the Direct Selling Association pride themselves in their commitment to the highest standards in business ethics," said DSA's president Joseph Mariano. "By applying for membership in the association and going through a rigorous approval process, these companies are demonstrating that they take their ethical obligations to their field salesforce and to the ultimate customer seriously and are willing to make a public pledge to that effect."
Asma Ishaq, Jusuru International's president stated,
"Becoming an official DSA member is one of the greatest honors our company has received and demonstrates that we are in the company of the best in the industry. We're proud to give our independent representatives and consumers the highest assurance of ethical, transparent, and honorable practices in the direct selling industry."
The DSA membership announcement comes shortly after Jusuru International was also recognized by the Direct Selling News as the Young Company Focus in the September 2012 issue. Due to its rapid growth, the company recently expanded its operations and celebrated a ribbon-cutting ceremony at their new company headquarters in Anaheim, California, earlier this month.
The DSA has more than 250 active and pending members and represents a nearly $30 billion U.S. direct sales industry with more than 15.6 million direct sellers nationwide. Worldwide sales reached $153 billion via more than 92 million direct sellers. The DSA's mission is to protect, serve and promote the effectiveness of member companies and the independent business people they represent, and to ensure that the marketing by member companies of products and/or the direct sales opportunity is conducted with the highest level of business ethics and service to consumers.
About Jusuru International, Inc.:
Jusuru International, Inc., headquartered in Anaheim, California, is committed to delivering the most advanced nutritional supplements and skincare made with the highest quality ingredients and meticulous care. Jusuru's executive team supports the company's rapidly expanding network of independent representatives with decades of experience in health, science and business.
Jusuru's nutritional and skincare products offer a unique and exclusive liquid form of BioCell Collagen®, a naturally occurring matrix whose three major constituents, hydrolyzed collagen, chondroitin sulfate and hyaluronic acid, are reduced to highly-bioavailable, very low molecular weight forms due to its patented hydrolysis process.
For more information on Jusuru products or the company, please contact Jusuru International, Inc. at
(888) 862-3968 or visit www.jusuru.com.
For more information on the DSA, visit www.dsa.org.