Brian Bear – Top MLM Internet Marketer Interview
January 27, 2013
By Team Business For Home
Brian Bear is 6-Figure Internet Marketer, Co-Owner of the Affiliate Portal Network. He is married and resides in Dearborn, Michigan, USA.
Ted Nuyten had to honor to interview Brian Bear.
Brian, how did you got involved into Internet Marketing?
After many years as a truck driver I grew increasingly weary of the fact that I wasn't living up to my potential and taking advantage of my skills. Shortly after filing for bankruptcy I decided on make a serious effort to better my family's life by making money online, which is exactly what happened in 2008.
Within my first 6 months I had reached over $15,000 a month and continued on to become the top earner in Global Domains International. After 2 years with GDI I decided to move on to another company because my team wasn't successful like I was. In mid 2011 I joined GVO (Global Virtual Opportunities) and almost immediately became the top earner making 5 figures a month with them also.
My sponsor, Tissa Godavitarne was not only supportive, he placed me in a position in GVO that further assisted me in becoming the top earner with GVO. More members on my team in GVO are succeeding, but the percentage overall is still somewhat low despite the good products & services, which is why I joined the Empower Network in January 2013.
With MUCH higher overall success rates, and fantastic products, I'm very excited for not only my future, but my team's future too. Within my first 72 hours I sponsored over 40 affiliates and am on the top 10 leaderboard at #6. I look forward to becoming the top earner in Empower Network, but am much more excited knowing that my team will also be at the top with me this time!
Is MLM different then affiliate marketing? Is it more rewarding?
MLM is more rewarding than affiliate marketing, but only if success is easy to duplicate with your team. I'm very blessed to be making over $25,000 every month for 4+ years now.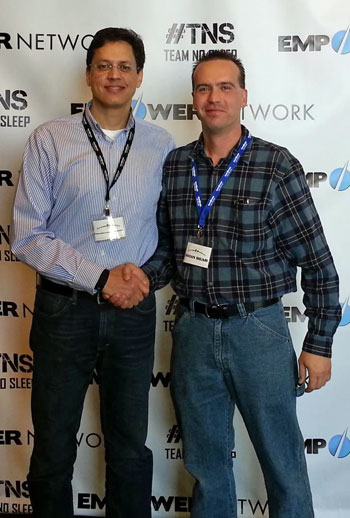 You enrolled over 40 team members in just 2 short weeks, how did you do that?
I enrolled over 40 members in my few days with Empower Network because many people know that I really love to help others & see them succeed.
What attracts you in the MLM business model?
What attracts me in an MLM company are 3 things:
1. A high affiliate success rate across the company.

2. Solid products that I actually believe in.

3. A great compensation plan for everyone with no qualifications.
Who have been your mentors or inspirators?
My mentors in Internet Marketing are Tissa Godavitarne, Mike Dillard, & all of the people in my networks that have believed in me throughout the 4 years I've been involved in Network Marketing.
How are you building up your E-mail list?
I build my lists in a couple of ways: With Marketing Systems that act as free platforms to further help others succeed, & with video marketing.
Any tips for a newbie?
I have 2 tips for a newbie: know that you need to believe in yourself while wanting to help others, & think outside the box when advertising….be different but transparent & honest.
You recently joined Empower Network, why is that?
I have a few reasons why I joined Empower Network. Mainly because I trusted my friend Tissa Godavitarne who's a brilliant marketer, but also because of the 4 reasons:
1. A high affiliate success rate across the company.
2. Solid products that I actually believe in.
3. A great compensation plan for everyone with no qualifications.
The owners of Empower actually care and edify others. The company itself was made because Dave Wood & Dave Sharpe were also tired of having a broke team. Now E.N. has one of the highest success rates in the industry!
With David Wood – CEO Empower Network
Contact details Brian Bear
www.affiliateportalnetwork.com