Herbalife Disclose Distributor Earnings
February 7, 2013
By Team Business For Home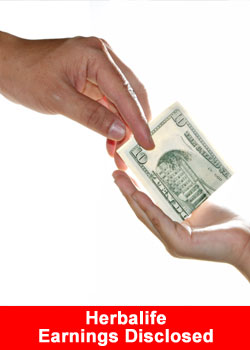 Herbalife yesterday disclosed information about how much its distributors earn as part of its attempts to counter continued accusations that, in the words of Bill Ackman, it's just a well-managed pyramid scheme. Just under 90% of distributors received no payments last year, while the average compensation for those who did ranged from $104 to $724,030, depending on their levels.
Compensation in 2012 ranged from average payments of $104 for 2,466 people at the lowest Herbalife distributor level, to average payments of $724,030 for 194 people at the top.
Specifically, Herbalife says that 88 percent of its distributors received no payments in 2012, including 71 percent who did not recruit any other distributors. The remainder potentially recruited other distributors but did not make money because their recruits did not sell enough product.
Herbalife said that on average, 73 percent of its distributors join Herbalife just to get a discount on the products rather than to earn money.
The new disclosure, posted on Herbalife's website on Wednesday, reveals the compensation structure for Herbalife's entire distributor network, not just for the upper tier as it had in the past. How much Herbalife pays its distributors, and for what, is a central theme in the high-stakes debate over the legitimacy of its business.
The disclosure, also mentions a money-back guarantee of 90 days for its international business packs and one year for return of resaleable inventory upon leaving the business.
It also says distributors are not paid for sponsoring new distributors.
In addition to the more detailed data, Herbalife adopted a cautious tone in its statement, warning potential sellers that an Herbalife distributorship is something like a gym membership: results vary with the time, energy and dedication you put into it. It is hard work, the statement said. There is no shortcut to riches, no guarantee of success.