Herbalife Q4 Sales $1.1 Billion Up 20%
February 20, 2013
By Team Business For Home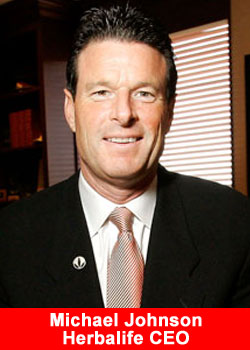 Herbalife Ltd. Announces Record Fourth Quarter 2012 and Record Full Year Results, and Raises 2013 Earnings Guidance
Fourth quarter worldwide volume growth of 18 percent with double-digit increases in each of its six regions compared to the prior year period.
Fourth quarter EPS of $1.05 increased 22 percent compared to the prior year.
Raising FY'13 EPS guidance to a range of $4.45 to $4.65.
Annual sales leader retention of approximately 51.8 percent.
Repurchased 4.0 million shares of stock since December 31, 2012.
Board of directors approved a $0.30 per share quarterly dividend.
LOS ANGELES- Herbalife Ltd. (NYSE: HLF) today reported fourth quarter net sales of $1.1 billion, reflecting an increase of 20 percent compared to the same time period in 2011 on volume point growth of 18 percent. Net income for the quarter of $117.8 million, or $1.05 per diluted share, compares to 2011 fourth quarter net income of $105.4 million and EPS of $0.86, respectively.
For the twelve months ended December 31, 2012, the company reported record net sales of $4.1 billion, an 18 percent increase on 20 percent growth in volume compared to 2011. For the same period, the company reported net income of $477.2 million, or $4.05 per diluted share, reflecting an increase of 16 percent and 23 percent, respectively, compared to the 2011 results of $412.6 million and $3.30 per diluted share.
Herbalife continues to deliver record results in sales and profitability as our independent distributors go deeper into existing markets, developing more and more customers using our nutrition products every day, said Michael O. Johnson, Herbalife's chairman and CEO. Obesity and poor nutrition are global public health problems. Our distributors are proud to be part of the solution.
For the year ended December 31, 2012 the company generated cash flow from operations of $567.8 million, an increase of 11 percent compared to 2011; paid dividends of $135.1 million; invested $122.8 million in capital expenditures; and repurchased $527.8 million in common shares outstanding under our share repurchase program.
Fourth Quarter and Fiscal 2012 Regional Key Metrics1,2
Regional Volume Point and Average Active Sales Leader Metrics
Volume Points (Mil)
Average Active Sales Leaders
Region
4Q'12
Yr/Yr % Chg
4Q'12
Yr/Yr % Chg
North America
267.0
15%
68,029
14%
Asia Pacific
304.6
18%
69,553
26%
EMEA
156.6
14%
47,226
14%
Mexico
208.9
13%
61,836
19%
South & Central America
222.5
34%
50,874
28%
China
50.5
17%
12,560
25%
Worldwide Total
1,210.1
18%
300,521
20%
Volume Points (Mil)
Average Active Sales Leaders
Region
FY'12
Yr/Yr % Chg
FY'12
Yr/Yr % Chg
North America
1,157.8
17%
66,054
16%
Asia Pacific
1,197.8
25%
63,255
31%
EMEA
602.5
11%
44,098
14%
Mexico
815.4
16%
57,651
21%
South & Central America
740.4
30%
44,980
29%
China
206.5
34%
11,683
33%
Worldwide Total
4,720.4
20%
277,803
22%
2012 Annual Sales Leader Requalification
By the end of January of each year, sales leaders are required to re-qualify to retain their sales leader status. A record number of sales leaders were retained in 2012. The overall pool of sales leaders needing to re-qualify increased by approximately 21% compared to the prior year and we retained 20% more of them than in the prior year. While size of the group needing to re-qualify increased for the year, our overall retention rate remained fairly constant at 51.8%.
________________________________________
1Supplemental tables that include additional business metrics can be found at https://www.ir.herbalife.com.
2Worldwide Average Active Sales Leaders may not equal the sum of the Average Active Sales Leaders in each region due to the calculation being an average of Sales Leaders active in a period, not a summation, and the fact that some sales leaders are active in more than one region but are counted only once in the worldwide amount.
Updated 2013 Guidance
Guidance for fully diluted 2013 EPS is based on the average daily exchange rates of January 2013, which in aggregate are not materially different from the foreign currency exchange rates assumed in our prior guidance. Our 2013 guidance continues to assume a Venezuelan exchange rate of 10 to 1. The guidance does not include the one-time impact associated with the revaluation of our bolivar denominated monetary assets and monetary liabilities, which includes our bolivar denominated cash, due to the recent devaluation of the Venezuelan bolivar, or any potential one-time impact from a future devaluation or the repatriation of existing cash balances. Guidance for the year also excludes one-time costs of $10 million to $20 million, mostly legal and advisory services, relating to the Company's response to information put into the marketplace by a short seller which information the Company believes to be inaccurate and misleading.
Based on current business trends the company's first quarter fiscal 2013 and fiscal 2013 guidance is provided below.
Three Months Ending
Twelve Months Ending
March 31, 2013

December 31, 2013

Low

High

Low

High

Volume Point Growth vs 2012
11.5%
13.5%
8.5%
10.5%
Net Sales Growth vs 2012
15.0%
17.0%
12.0%
14.0%
Diluted EPS
$1.03
$1.07
$4.45
$4.65
Cap Ex ($ millions)
$20.0
$30.0
$165.0
$185.0
Effective Tax Rate
28.5%
30.5%
27.5%
29.5%
Announces Quarterly Dividend
The company reported today that its board of directors has approved a dividend of $0.30 per share to shareholders of record March 5, 2013, payable on March 19, 2013.
Share Repurchase Program Update
Subsequent to December 31, 2012, the company has repurchased 4.0 million shares at an average cost of $40.61. There is currently $787.6 million remaining on the existing $1 billion share repurchase authorization.
Fourth Quarter and Fiscal 2012 Earnings Conference Call
Herbalife senior management will host an investor conference call to discuss its recent financial results and provide an update on current business trends on Wednesday, February 20, 2013 at 8 a.m. PST (11 a.m. EST).
The dial-in number for this conference call for domestic callers is
(877) 317-1296 and
(706) 634-5671 for international callers (conference ID 90082326). Live audio of the conference call will be simultaneously webcast in the investor relations section of the company's website at https://ir.herbalife.com.
An audio replay will be available following the completion of the conference call in MP3 format or by dialing
(855) 859-2056 for domestic callers or
(404) 537-3406 for international callers (conference ID 90082326). The webcast of the teleconference will be archived and available on Herbalife's website.
About Herbalife Ltd.
Herbalife Ltd. (NYSE:HLF) is a global nutrition company that sells weight-management, nutrition, and personal care products intended to support a healthy lifestyle.Herbalife products are sold in over 80 countries through and to a network of independent distributors. The company supports the Herbalife Family Foundation and its Casa Herbalife program to help bring good nutrition to children. Herbalife's website contains a significant amount of information about Herbalife, including financial and other information for investors at https://ir.Herbalife.com. The company encourages investors to visit its website from time to time, as information is updated and new information is posted.