MonaVie – Record Growth in Australia and New Zealand
February 1, 2013
By Team Business For Home
MonaVie smashed market records for enrolments and commission payments Down Under in 2012. The impressive new growth occurring in MonaVie's Australia and New Zealand markets is a result of great leadership and a strong compensation plan that is only getting better in 2013.
In 2012, it was a record year for rank advancements, trip attendances and commission payouts in Australia and New Zealand. More than 20 distributorships advanced to an Executive Elite rank or higher, increasing their earnings up to $10,000 on average per week.

Three new Black Diamond Executives

The first White Diamond in the world

New Royal

Black Diamond Executive in Megan and Anthony Wolfenden

And the very first Presidential Black Diamond Executives Down Under, Shelley Ke and Victor Xu,
A record number of distributorships from Australia and New Zealand also attended the Diamond Destination in Maui, Hawaii, with a goal to double that number for 2013.
What's more, in Australia and New Zealand, distributors earned more than US$1 million combined from MonaVie's 2012 Rank Advancement Bonus. Worldwide MonaVie paid out more than US$18 million, making this one of the most rewarding promotions in MonaVie history!
In response to the tremendous success, MonaVie opened new offices in Sydney and Melbourne in 2012. Featuring exceptional facilities, each office was made with the business builder in mind, providing a place for distributors to hold meetings every day.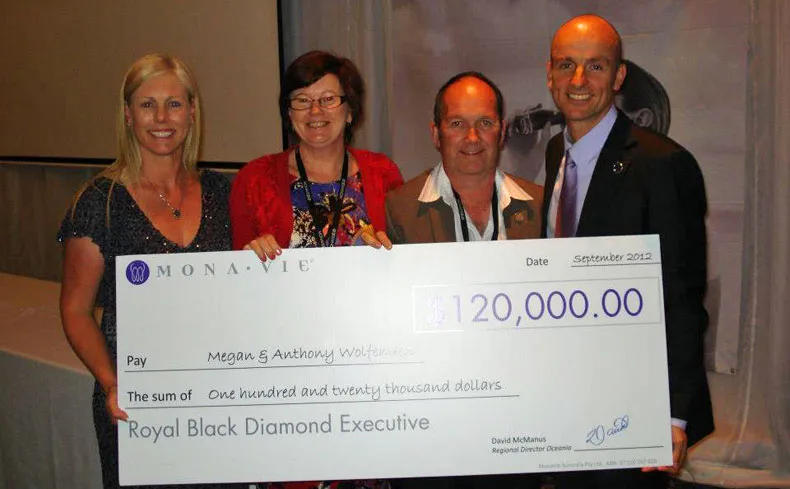 The momentum is set to continue in 2013, with a generous new promotion geared at rewarding everyone. In 2013 MonaVie is increasing Team Commissions to 12%. MonaVie takes great pride in its 50% guaranteed weekly payout and continues to be known for having one of the most lucrative reward programs in the direct selling industry.
Source: Jacquelyn Gonsal Regional Marketing Manager, Oceania