Team Beachbody Improves MLM Lead Program
February 16, 2013
By Team Business For Home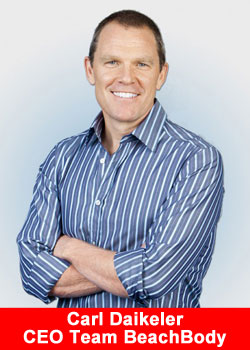 Team Beachbody MLM business opportunity now offers an improved customer lead program. This enhancement allows Beachbody Coaches to receive even more paying customers, which are generated and then given to them, from millions of dollars spent on television, radio, online, and print advertising by the company.
In 2007, Beachbody launched their MLM division, Team Beachbody. The Team Beachbody MLM allows any Canadian or US resident, eighteen years of age or older, to become a distributor of their products, such as P90X®, Insanity®, TurboFire®, Shakeology®, etc. These distributors are referred to as Beachbody Coaches.
Beachbody, the nationally known and well respected at-home health and fitness company, attracts new members, customers, and even distributors through their massive advertising campaigns, and immediately assigns them to people who are committed to earning a Beachbody Coach income. In turn, Beachbody Coaches help these customers become physically, nutritionally, and financially fit through the tools and products Beachbody offers.
Initially, Coaches were able to qualify for free leads and paying customers from the company for one week at time. However, with the recently revamped Beachbody Customer Lead Program, qualified Beachbody Coaches can now be given paying customers, free members, business leads, and even Beachbody distributors for an entire calendar month at a time.
Traditional MLM business representatives rely on home parties, selling to friends and family, hosting live events, and online advertising; and while these multi-level marketing strategies are also widely used by Beachbody Coaches, this new and improved MLM customer (and distributor) lead generation is ground breaking. The ability for people to make money as a Beachbody Coach, with leads provided to them by the company, is changing the way people view the MLM industry.
Additional improvements to the Beachbody MLM Customer Lead Program include: New longer qualification periods, new lead tracking tools, and simplified reports to help Beachbody Coaches ensure they never miss a month of being given customers or leads.
Independent Team Beachbody Coaches, help their team members learn how to quickly qualify for free leads, and how to maximize their Beachbody Coach income, by providing ongoing support and guidance to every customer the company provides them with.
Beachbody does not guarantee any level of success or income from the Team Beachbody Coach Opportunity. Each Coach's income depends on his or her own efforts, diligence, and skill. See the Statement of Independent Coach Earnings for the most recent information on the Coaches' actual incomes.
Team Beach Body Top Earners Est. Earnings
[private_platinum]
The average earning for a Team Beachbody Star Diamond is $79,500 per year. The Nr. 1 top earner makes $1.4 million.
The above amounts include only those sales made through the company-provided Web sites or via the company's call-center and are in addition to and do not include retail profits earned on offline resale of products to consumers. The figures stated above are not a guarantee and are not a projection of a typical Coach's earnings through participation in the Team Beachbody compensation plan. Any representation or guarantee of earnings would be misleading. As in any independent business, the Level of success or achievement of a Team Beachbody Coach is dependent upon the commitment, skill level, drive, and desire to succeed of the individual Coach. With the Team Beachbody opportunity, every Coach has an equal potential to continue to earn more compensation.
[/private_platinum]