The Fall of Fortune Hi-Tech Marketing
February 9, 2013
By Team Business For Home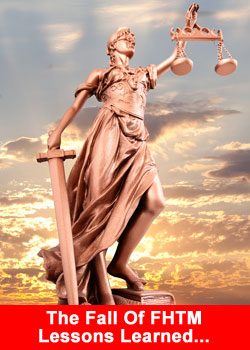 The Fall of Fortune Hi-Tech Marketing Has Lessons for the MLM Industry
by Adonis E. Hoffman, *Adonis Hoffman, Esq., is an attorney and marketing professor in Washington, DC, who follows the MLM industry.
The world of network marketing, direct sales and MLM was shaken when the Federal Trade Commission (FTC) and the Attorneys General of Kentucky, North Carolina and Illinois acted jointly to shut down the operations and seize the assets of Fortune Hi-Tech Marketing (FHTM) on January 28, 2013. Such a harsh display of federal and state enforcement rarely has been seen in the industry, and the aftershocks will be felt for a long time to come.
After the closure, I spoke with a friend who has been involved with FHTM for eight years, and he was devastated. While the closure of FHTM has been hard on its thousands of representatives, employees, and supporters, the impact on the network marketing industry may be even more serious and far-reaching. As a Washington based attorney and professor of marketing at Georgetown University, I follow the FTC and its procedures very closely. For nearly 10 years, I collaborated with the agency on a number of industry and consumer self-regulatory initiatives affecting the advertising and marketing industries, and I know the regulatory process very well. As such, I do not have an interest in any company in the industry.
There is one thing most close observers of the agency recognize: The FTC does not move with such force and deliberation against a company unless it has clear and convincing evidence of wrongdoing. This is not to convict FHTM before it has its day in court, but simply to note that hundreds of hours of investigation by both the state AGs and the FTC went on before they decided to shut down FHTM. Not only was there smoke, but there also must have been some fire.
When these high profile, hard-line enforcement actions take place, there really are no winners. The company loses its credibility. The independent representatives lose their investment, not to mention their confidence and security in the company. The customers lose their source of products. Moreover, the industry loses its longstanding battle for acceptance as a credible, legitimate alternative to traditional employment.
But all is not lost. From the FHTM debacle, there are at least five important lessons the MLM industry should learn.
1. Pay Attention to the Disgruntled and the Departed–They Can Be Your Undoing
There is a long line of companies with disgruntled representatives who leave the organization disappointed and dejected. Every MLM company has its critics who left with a bitter taste. Some were unable to compete, and others just could not persevere through the tough times that occur in network marketing. Whatever the case, it appears FHTM had more than a few vocal, disgruntled representatives with gripes ranging from lack of appreciation, lack of support and lack of respect.
These individuals were instrumental to the government's findings against FHTM. While no company should be in the business of coddling non-performers, every organization that has a track record of losing as many representatives as FHTM is alleged to have lost should take affirmative steps to ascertain: (1) why those reps felt compelled to leave; (2) what the company could have done better to retain them, and (3) what the company can do going forward to show that it is (or was) concerned about them, as professionals.
Allegedly, FHTM did not do any of these things, or else it would not have brigades of former representative ready to go negative. The lesson for MLM companies in the future is that one disgruntled former rep can be a problem–scores of disgruntled reps can invite the unwanted scrutiny of state and federal authorities. Much of that could have been prevented.
2. Spread the Wealth From Top to Bottom
One of the government's claims against FHTM is that over 95 percent of the reps made little or no money whatsoever, while one or two percent of its leadership earned incomes averaging over $300,000 and upwards of $1 million. If such an allegation is true, this is a legacy no self-respecting company in any industry should be proud to report. These kinds of statistics point to failure of the company, not to success, and no amount of spin or doctrine or motivational rallying can change the fact.
A responsible company will take the necessary steps to adjust its practices so the ratio of top earners to low-earners is not wildly out of balance. A responsible company will institute reforms to spread the company's wealth, even if it means re-jiggering the compensation plan to reward effort. A responsible company will bring in compensation experts to fix what is broken. The key lesson for any company in the industry is that federal legislators will not tolerate an egregiously outbalanced compensation structure, where there is no apparent regard for some kind of equity. When allowed to persist for years, as it is alleged against FHTM, the government easily can conclude that a pyramid is operating.
3. Don't Be Dogmatic
From the outset, FHTM was inextricably tied to the personality of its founder and chief executive Roy Orberson. A man with an outsized personality and compelling personal story, Orberson is nothing short of charismatic–in an evangelical sort of way. While that characteristic is enormously attractive to many, it apparently had the opposite effect on many others. Not one to back down from a righteous confrontation, Mr. Orberson drew very stark lines in the sand and invited regulators and anybody else to cross it.
His them versus us, and us against the world philosophy indeed alienated many in the industry. The problem with such an approach is that it invites unnecessary scrutiny and confrontation. Orberson became a lightning rod for everything the outside world considers wrong with the MLM industry, and his personality shaped the culture of FHTM. It was easy to cast him as a villain, and thus justifiable to come down hard on his personal assets. This enforcement action apparently had been building for years.
4. Dialogue with the Government
When the government comes a calling–it is every man (company) for himself. With all due respect to industry trade associations such as the DSA, inquiries, enforcement and regulatory action by the government prove that a company must act on its own behalf before, during and after an investigation. It is always the better course of action to engage and cooperate with state attorneys general and the Federal Trade Commission. Avoidance and aggressiveness is never the a prudent course to follow. FHTM should have been a regular on the 7th and 8th Floor at the FTC. Its lawyers and lobbyists should have been pounding the corridors of Capitol Hill to win friends and influence people who could have softened the blow of government investigations and enforcement. FHTM and other companies cannot rely on the DSA to protect its interests when it comes to an investigation, because trade associations by definition, avoid advancing the interests of one member of the industry over another, and rarely get involved in these kinds of actions. This is not to take away from the good work DSA does for member companies, but membership alone will not insulate a company from the long arm of the law.
5. Audit, Monitor and Self-Regulate
Every company in the MLM industry should be auditing and monitoring its own activities on a regular basis to determine how well it is complying with government and industry standards. It helps to bring in outsiders, from time to time, to assess progress. Make annual or semi-annual audits a part of the company's culture and protocol to insure against external assessments and findings of wrongdoing.
Conclusion
It is no secret that the MLM industry is in the crosshairs of state attorneys general and the Federal Trade Commission. The scrutiny is not personal–its business. FHTM is not the first, and will not be the last, company to undergo investigation, litigation and perhaps liquidation. There will be more to come. These regulators are sworn to uphold the public interest. When consumers are harmed by business practices bordering on unfairness and exploitation, these agencies will move in swiftly. Smart MLM companies will do everything they can to insulate themselves from the factual conditions that gave rise to the actions against FHTM.
A few of the basic rules apply. Compensation has to be based on the sale of goods, products or services, not on recruitment. While team building is essential to success in MLM, the primary focus of every company must be on moving products. When that message permeates a company's presentation and information, and is evident on its website and corporate materials, the company should be able to pass any regulatory or legal muster.
At the end of the day, the fate of FHTM appears to be sealed. It will never exist in the same form or fashion as it did before January 28. The executives appear to be destined to dole out large sums of money in a consent decree settlement, perhaps with a stipulation that it cease and desist from operating.
Other companies should learn from FHTM's mis-steps and take the time to assess their practices, make adjustments where necessary, and get to know the regulators and policymakers who might be able to make a difference.
About the author:
* Adonis Hoffman, Esq., is an attorney and marketing professor in Washington, DC, who follows the MLM industry. He is a former Congressional and FCC lawyer who advises companies on the rules and policies affecting marketing and communications.
Hoffman is a member of the National Advertising Review Board, and is the author of Doing Good–the New Rules of Corporate Responsibility, Conscience and Character. https://about.me/adonishoffman