Tony Rush – Empower Network Hits $142,000 Per Month
February 5, 2013
By Team Business For Home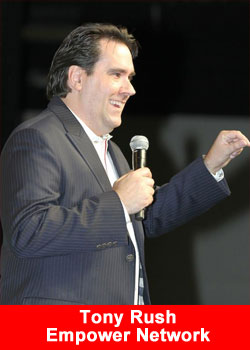 Tony Rush from Dothan, Alabama, USA has hit as of Januari 2013, $142,000 per month with his Empower Network distributorship.
Tony Rush is one of the real characters in the network marketing and personal development industries. He has been fulltime in network marketing since 1996, continues to actively build his organization today and has consistently been in the Top 10 income earners in his company.
In May of 2005, he received the prestigious "Rising Star Award" for being the #1 team builder in his company after only 90 days.
Co-author of "It's Time….For Network Marketing", Tony is an internationally recognized expert in creating wealth in a home-based business. As a frequent guest on radio talk shows, podcasts and a consultant for home-based entrepreneurs in other companies, Tony has been a part of thousands of success stories over the years.
He's been a featured speaker in several major cities in the United States as well as in Sydney Australia; Rome, Italy and Cancun, Mexico and has shared the stage with Bob Proctor (from the movie, "The Secret"), Michael Losier (author of "The Law of Attraction"), Phil Keoghan (host of "The Amazing Race"), Lynn McTaggart (author of The Field and The Intention Experiment) and many more.
He currently serves on the Executive Marketing Council for a leading direct-sales company and also hosts the popular "Wake Up To Success" call heard daily by thousands of network marketers in more than 65 countries each week.
He lives in Alabama with his wife Jessica, three sons and a dachshund named Bentley.
Empower Network Top Earners est. income for 90+ distributors:
[private_platinum]
[/private_platinum]
Empower Network Disclaimer:
The amount of hours worked required to achieve the stated income varies by participant. The estimates provided above were the result of an informal sampling of Empower Network participants. Basically, it takes hard work to make substantial income in this business, and some people make no money at all.
The income statistics above are for all active affiliates world wide for the dates specified above, are based in US dollars, and updated daily. An 'active affiliate' is defined as someone who: 1) Has executed an affiliate application; 2) has qualified to earn commissions; 3) has received at least one direct commission in the last 30 days; 4) has either an approved merchant account, or integrated a payment method in the members area; and 5) has not been terminated, or chosen to discontinue for any reason.