Al Richey – Nerium Appointed To VP US Operations
March 23, 2013
By Team Business For Home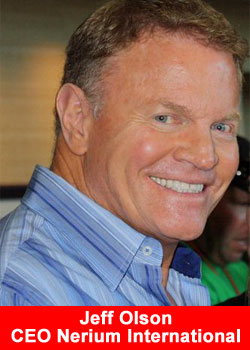 Nerium International is pleased to announce the appointment of Al Richey as the VP of US Operations. A degreed and certified Operations/Supply Chain professional with over 20 years experience in positions of progressively increasing responsibility in both Domestic and International roles, Richey brings to Nerium the skills and experiences necessary to hone Nerium's operations into those befitting a company that, in 2012, exceeded $100 million in sales.
With an intentionally diverse professional background, including a wealth of experiences with a prominent direct sales company, Richey is a consistently high performer in all areas of operations. When asked to describe himself, Richey said, "I am a change-agent who chooses to be candid, makes quick but informed decisions, has very high expectations, and leads with a team-based approach. With the right team, and the right KPI's, you create success."
Nerium's Founder and CEO, Jeff Olson, has high expectation for Richey, and with good reason: "Al's resume speaks for itself," says Olson. "For several decades, Al has proven that he focuses on achieving real results. We're looking forward to utilizing his experience and talent to drive Nerium International forward, following best practices and developing synergy."
Olson continues, "Al is another key addition to the world-class management team Nerium International has attracted and continues to attract. This team is directly responsible for Nerium's unprecedented growth, and Al's skills and expertise will only turbocharge the efforts and outcomes."
As befits a member of Nerium's seasoned corporate team, Richey has a passion for service, and he strives to serve Brand Partners through excellent operational execution. The entire Nerium International team is pleased to have Richey on board to guide the company as it works toward global expansion in 2013.
About Nerium:
Nerium International is a skin care company based in Addison, Texas. Their product, NeriumAD, helps defy the signs of aging. NeriumAD is distributed through independent representatives called Brand Partners. Read below from their website.
Nerium Top Producers
| | | | |
| --- | --- | --- | --- |
| | | | |
| Mark O. Smith | Silver Fisher | Darin Kidd | Paddy McCracken |
Nerium Top Earners est.earnings
[private_platinum]
[/private_platinum]