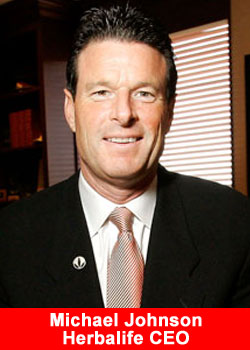 Herbalife CEO Was Paid $10.3 million In 2012
April 8, 2013
Herbalife CEO Michael O. Johnson was paid $10.3 million in 2012, a 58% cut from the $24.6 million he received in 2011, Herbalife said in a regulatory filing.
Johnson, 58, a former Walt Disney Co. executive, has served as chief of the Los Angeles-based nutritional products company since 2003.
He was paid $1.2 million in base salary in 2012, with the rest of his pay coming from stock-option awards, performance-based bonuses and perks. The biggest difference from 2011 was the value of his stock-option grants, which fell from $19.5 million in 2011 to $5 million in 2012, Herbalife said in Wednesday's filing.
Johnson made more than $89 million in 2011, making him the highest-paid chief executive in the country, according to research firm GMI Ratings. The firm has not yet released its analysis of 2012 executive compensation.
Herbalife issued a statement Wednesday that explained Johnson's pay:
"In 2011, Mr. Johnson received a performance-based equity award that is only worth anything to him if the company grows faster than forecast. In 2012, Mr. Johnson received only his regular annual equity award. … Hence the swing," the company said.

"The decrease in value does not reflect a decrease in performance. To the contrary, it reflects that he received a supplemental equity award in 2011 that will take three years to earn into."
Get more information, fact and figures about Herbalife, click here for the Herbalife overview.