Jeunesse Global – 94% Growth In 2012
April 13, 2013
By Team Business For Home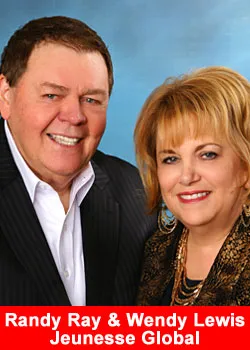 Jeunesse Global ranks nr. 3 on DSN's 2012 Top Percent Growth with 94% increase
Jeunesse Global, a privately held company specializing in cutting edge anti-aging nutritional and personal care products, was just recently recognized by the Direct Selling News (DSN) as nr. 3 for Top Percent Growth – 94% – of 2012, based on percentage sales revenue growth from 2011 to 2012.
Of the top ten recognized, Jeunesse is the youngest company on the list after officially launching on 09/09/09.
In the current year-over-year comparison, Jeunesse's sales are running over a 125% increase, putting the company on track to do over $280 million in sales for 2013.
Founded by Wendy Lewis and Randy Ray, Jeunesse is based in Orlando, Florida, and has a global presence with over 20 offices around the world while shipping to over 85 countries. The company continues to redefine the industry with its exclusive Youth Enhancement System (Y.E.S.) of science-backed products.
Jeunesse credits its success to the loyal and dedicated distributors who are passionately sharing the Jeunesse® story while impacting hundreds of thousands of lives around the world.
Scott Lewis, Jeunesse's Chief Visionary Officer, commented, "It is a tremendous honor to be acknowledged amongst our distinguished peers as the youngest company out of the top 10 direct selling companies recognized for top percent growth in 2012.
We are extremely appreciative of the recognition, but undoubtedly attribute all of the early success we have experienced to our amazingly committed Jeunesse family from around the world. As we are still a relatively young company, we are certainly pleased with our current growth trend, but are just as eager to make 2013 our biggest year to date."
For more information about Jeunesse visit https://www.jeunesseglobal.com