Bob Middleton Passed Away
May 7, 2013
By Team Business For Home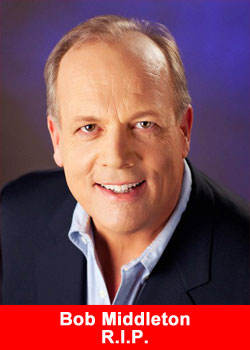 John Milton Fogg confirms Top Network Marketer Robert Bob Middleton has passed away in Las Vegas, USA. Bob earned up to $2 million a year with Starlight.
John Milton Fogg has published in his bestseller The Greatest Networkers In The World about Bob Middleton as follows:
Robert Middleton grew up in Charlottesville, Virginia, "with a silver spoon in my mouth and one in each hand," he says. But at the time he was growing up, Bob didn't realize that.

He lived on a 744-acre Hereford cattle farm thinking "everyone knew what dirt smelled like." It was his grandparents' estate. They were industrialists and they founded a company called Babcock and Wilcox (B&W) back in 1856.

The property is currently the site of the University of Virginia's Birdwood golf course. It was a big farm. They had stables, a dairy and cows, sheep, horses, even Hereford show cattle. They did 55,000 bales of hay every season.

How did Bob get involved in Network Marketing? He reluctantly went to an opportunity meeting. "A friend of mine, Steve, called me and kept bugging me to go to this meeting," Bob said. "I had moved into building material sales and he was one of my biggest clients.

So I said, 'If you'll buy me lunch, I'll listen to anything you say.' I hated eating alone."b"So, he bought me lunch and kind of started drawing circles, and… I was bored to death. Then he said, 'Look, we need to go to a meeting.' And I said, 'If you will never mention Network Marketing to me again, I will go to any meeting you want.' And I went."

There were a couple of hundred people in the room. They played a video with some country music by Rex Allen on it and the guy in the front of the room had white hair that was swept way back. He had been a funeral plot salesman. Bob was kind of impressed, but not really, and he wasn't really paying attention either.

And then, at the very end of the meeting, they gave Bob's friend Steve an award for earning $16,000 in one month. Bob had never made $16,000 in his life in one month—in anything. That finally got his attention. He signed up immediately.