Visi $15 Million In Sales in First Year
May 8, 2013
By Team Business For Home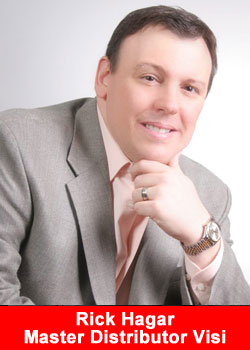 Rick Hagar, Master Distributor for Visi (pronounced VeeSigh – which is Scandinavian for "Leader") is reporting that the company has finished it's first year with revenues in excess of $15 million – and sales now approaching $3 million per month.
Visi launched in April of 2012, and saw 143.8% growth in Q3 of 2012, and 154.8% growth in Q4 of 2012. Visi is currently operating in the USA, Canada, Japan, Australia, Germany, Sweden, United Kingdom, Ireland, Finland, Hungary and soon to be Norway. Other markets are being analyzed as well.
Rick states:
"I believe the growth is being stimulated by three distinct drivers: First, The products. Visi products are centered around powerful super foods that come from Scandinavian nature. Visi has created a proprietary blend of Scandinavian super foods featuring the Arctic Cloudberry and Lingonberry which are not familiar to most around the world.
These super fruits are very rich in vitamins, minerals, trace minerals, omega's, and amino acids. They also contain high amounts of phytonutrients and other health giving compounds.
Visi has fused this Scandinavian superfood blend into products that have mass appeal including weight loss, energy, and overall wellness. Visi's newest product "Probita" is a Collagen chew, infused with Arctic Cloudberry and Lingonberry and the buzz swirling around this product has been amazing.
Second, Visi has a deep bench when it comes to management experience. The management and ownership at Visi led by CEO Kent Lewis have decades of experience in working inside some of the most successful companies in the network marketing industry. They have also operated in over 30 countries around the world. Seasoned management with the right temperament to build and scale a company is a critical factor to long-term stability and success according to Rick.
Finally, sales strategy. Visi Leadership understands that to duplicate and grow there must be an infrastructure of worldwide meetings, sponsoring tools, and a support network. Visi has invested heavily into the markets it is growing in and will continue this process into the future.The company is embarking on a worldwide 20 city tour in June, with the focus being to build quality relationships and create infrastructure where the distributor is supported.
Rick says: "Visi products have produced measurable results and changed the lives of many people for the better. The weight-loss testimonies, the before-and-after pictures, and the feedback has been unbelievable. In less than a year, some of our top leaders have seen weekly incomes bigger than what most people make in an entire year. It is all coming together and we are about to enter a massive wave of growth. We are beginning to get phone calls and office visits from some very significant leaders in our industry who are excited about what they are seeing unfold.
For a FREE copy of Rick Hagar's new CD titled: "Scandinavian Gold" call 24 hours: 1-888-286-9019