Enes Olgun – Mega Holdings Top Earner Interview
July 16, 2013
By Team Business For Home
Enes Olgun is the top independent distributor for Mega Holdings with more than 50,000 members in his team spread over many countries in Europe.
He was born in Turkey and studied at the University of Warsaw (Poland) and Istanbul. He lives in Istanbul where he works full time on his international network marketing business.
He began in 2008 as an independent distributor for Mega Holdings and his earnings reached $100,000+ per month as of July 2014.
Mega Holdings is an international company providing online web hosting services.
Mega Holdings allows you to create and design your own website. The company offers a one-stop web hosting package that includes all you need to translate your ideas into an attractive website. With a few easy clicks you can get a domain name, build a website, create e-mail addresses, and start reaping the benefits of your unique online presence.
Mega Holdings (www.megaholdings.org) is incorporated in Hong Kong and its Management team is headed by Chairman/Founder Michael Cheng, a successful business entrepreneur with rich experience in network marketing and other business investments in several parts of the world. The CEO is S.S. Bon, who has extensive training and experience in corporate management. Mega Holdings has country agency offices in Istanbul and Afghanistan and will shortly establish agency offices in several countries in Europe.
Ted Nuyten has had the honor to interview Enes.
Enes, how did you got involved into the MLM business?
Well, like most people, I had pre-conceived ideas about network marketing. I had heard of Amway before because my family was involved in it. So I was not interested to listen to any MLM company.
One day in 2008, a close friend called me and invited me to see him. He didn't mention a word about the business during the invitation. When we met, he introduced the business and explained the compensation plan. I was fascinated and decided to join. But I didn't have any money, so I borrowed it from my mother. I repaid her within one month. Three years later, she told me that she didn't believe what I wanted to do at first, but she lent me the money only because she saw my strong belief in the business.
Two weeks after I started, my upline copied the company's plan and left the business but I didn't follow him, because I thought although he sponsored me, he was not necessarily smarter than I was. I decided to stay. And I searched for his upline and found Mesut Opengin. You can call him Mr. Support! Mesut Opengin is the Country Agent for Turkey, Germany and Europe.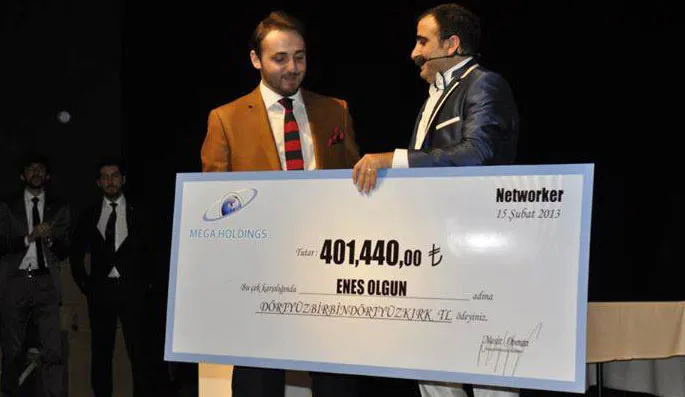 Did you sponsor a lot of people?
I successfully sponsored two (2) friends who in turn successfully sponsored two (2) other friends each. This eventually leads me to be where I am as a top earner. It is the best leverage marketing plan I have ever experienced.
This is the power of Mega Holdings. The depth is important, so you must continue to support your downlines. Over the years, I have introduced 300 people to the business and they are all under my organisation. We have unlimited width and unlimited depth; I choose unlimited depth!
What attracted you in the MLM business model?
At first, the only thing that attracted me to the business was earning money. That's the great thing about network marketing. Whatever may be the reason for joining, you will find a treasure! As you grow, you will soon realise how incredibly large the treasure is.
When they first introduce you to the business, you have no idea where and how you are going to begin. This is the iceberg. Once you have started, you begin to see the bigger picture: the challenges, the trainings, the uplines, the downlines, the sidelines, the product and the company. Everything that happens along the way is helping you to become a better person, and that's the beginning of your personal development.
I never thought about writing books before, but now I have 4 books to my credit. I am 25 and I have already travelled to 25 different countries, with my own money! The system is a pleasant surprise. It's like you look for gold, but you find a diamond mine instead!
What has made you successful?
There are several reasons. I am not afraid of taking risks and making mistakes. As they say it, to double your success, you should triple your mistakes. Making mistakes and learning from my mistakes is part of success. I like to try; I like to explore. Another factor is I like to compete and to be challenged. In my opinion, it's very important to have this sense of winning and being ahead of the others. If I don't find anyone to compete, I will compete with myself.
Of course, one of the most important reasons is the right environment that we have in Mega Holdings. Like many other great MLM companies, here we have the right atmosphere which helps me to grow, gives me the encouragement and support. I am grateful that I have started in the right company.
Another thing I like about Mega Holdings is, we fulfil our Corporate Social Responsibility through our voluntary contribution together with the company to feed the many hungry children in many parts of the world. While we earn, we must also contribute to charity.
What makes your team successful?
Because of the nature of our service/product, i.e. website hosting, the big advantage we have in our team is the very young people we attract. They are very interested to be connected online and be up to date, and they want to have a place in the cyber world.
Youngsters have less fear and more energy; they have big vision; they have still not been affected by the so-called reality of cowards! They have more room to take risks; they are more flexible and adaptable to change. We have created a great system that provides everything necessary for success. With all of these factors combined, now everyone is in a great mood and as you know, mood is everything!
How do you get the duplication in?
There are two important ingredients about duplication: WHAT to duplicate and HOW to do it. When we talk about duplication, we often think about the information that our team should have about the product, the company, the compensation plan, the presentation, etc. It is important that our downlines know as much as we know. I believe there is something more important than just the technical stuff to duplicate, and it's the WHYs. Why I'm doing this business, why I have to work hard and learn so many things, why I have to face all these rejections. These WHYs are very clear to me. I believe the most important part of this business is helping people to find their Reasons, their WHYs.
People have dreams but they are often not very clear about it, and we also cannot give them the answers because different people have different reasons. We do it by asking questions, helping them to find the answers themselves. When they have found their reasons, the rest is easy. When people have found their whys, they will push their uplines. You won't need to push them.
HOW we do it is simple. We are the walking examples of what they should do. Our team members have created incredible stories of success. Each of us has a different story. We walk, they follow; we do, they learn.
What is your biggest challenge as a Top distributor?
The biggest challenge is our old friend, Duplication. Duplication is the secret of our success. I and my leaders are lucky to have received good training in the organisation. I want this training for everyone in the organisation. If someone joins my team from other countries they must receive good training. Thanks to the internet. We are closer than ever before to achieving this dream of equal opportunity for training and duplication for everyone. We are in the right place, at the right time.
Another challenge is to make success sustainable. Robert Kiosaki says two things can make you dumb, success and money. And we have both! Both I and my leaders are exposed to this danger. So we must think of greater success; we must set higher targets. We view success as a journey and not a destination. While we teach the organisation how to make money, we must also teach them how to spend the money prudently and to invest wisely.
Mega Holdings Team leaders
| | | | |
| --- | --- | --- | --- |
| | | | |
| Hedi Khezrzadeh | Mesut Opengin | Mahmut Inan | Selim Doruk |
| | | | |
| Fatih Yazici | Fehim Aksac | Egemen Ozer | Selman Olgun |
| | | | |
| Aksemseddin Kocabas | Ali Ural | Dogancan Gunes | Ridvan Dereli |
| | | | |
How has Network Marketing enhanced your lifestyle?
Well, the words completely change would be more appropriate than enhancing. I come from a middle-class family, but definitely we were not rich. So everything that we wanted to buy or eat, the price and affordability became important considerations. Money was always an issue. Most people would understand what I am talking about.
If you are in the same shoes as I was, you have nothing to lose. Do something about it! The trip that you want to make, the restaurant you want to eat in, the clothes to buy, for all these basic things, money is needed.
Don't even mention buying a car because even if I had a car then, I couldn't pay for the gasoline! Now, I own a Maserati, a Jaguar, and another car. I travel to wherever I want; I spend money as I wish. Even the amount of income tax that I pay to the government monthly is unimaginable as income for many other people. But above all, the peace of mind that I have now matters the most to me.
What is your advice for a newbie in network marketing?
Have a positive mind-set always. Be brave and fight like a hero! Kill your fear! Do not be afraid of criticism and rejection!
For majority of the people, when we want to do something the first thing that comes into our mind is: what do my peers think! Reject this thought! There will always be some people who disagree or dislike what you do. To prove this point, I made a search on YouTube for baby laughing. The best one was an adorable and innocent baby laughing naturally. It feeds your soul.
But more than 5,700 people disliked it! Why? You just cannot possibly think of any good reason why anybody would dislike such an innocent and cute baby laughing so spontaneously! So don't waste your time answering it. Don't waste your time thinking about dislikes; think of the likes. Think of success, not failure. Don't ask what if they reject'; ask what if they accept. And don't look at this opportunity as a trial; take it seriously.
Dress up for success. Only think of the highest position you can achieve in the company. Go for your dreams! Persevere and never give up! Fight like a hero! And success will be yours in the end!
What is unique about Mega Holdings?
The products of most MLM companies are generally not interesting to young people, but our product, i.e. website builder and hosting, is interesting for everyone especially the younger aged people. The penetration of our product is very high and it can go far with only one click. It's a product that takes you to the future!
Our product package consists of a state-of-the-art, professionally-developed Easy Web Builder to help you build a website, a one-year hosting service and an independent distributor business option.
Mega Holdings offers a highly competitive affiliate compensation plan for home-based independent distributors. Commission is paid daily into the accounts of distributors. Its competitive edge is the low initial capital outlay in a one-stop website hosting package. There is neither the requirement for upfront loading nor the requirement for periodic maintenance product purchase to qualify for commission. It is a simple model: distributors get commission and multi-level payout for introducing sales to the company. Your income is dependent on how much effort you put in promoting and securing the sales of the web hosting package. It's payout is among the highest in the online network marketing industry.
Also, Mega Holdings has an on-going Corporate Social Responsibility program to fight against hunger in the less developed or 'conflict' parts of the world. For every $ our customers contribute, Mega Holdings matches it with another $. The combined contribution is channelled to the UN-sponsored World Food Program (WFP) periodically to help feed the hungry children (One $ feeds 4 children) in many parts of the world including Syria, Mali, Congo, South Sudan etc.
What is the track record of Mega Holdings?
Mega Holdings is a 100% online product/service-based international company and its online business has been in existence for more than 14 years. That speaks for sustainability, reliability and strength in the company's management. It has a customer-base with clients in more than 100 countries worldwide.

What is Mega Holdings' vision and business strategy?
Mega Holdings' vision is to be an ideal and leading international network marketing company, providing a simple online product and multi-level training to empower and develop the youths into independent business owners, while operating from home on a part time or full time basis. This is to be accomplished through a highly competitive compensation plan and easy withdrawal through the network of ATMs available worldwide.
Mega Holdings provides the online platform and support, while our registered independent owners use their initiative and creativity to generate the sales to earn multi-level commission. The level of earnings is dependent on the resourcefulness and effort put in. All customers have equal opportunity to earn irrespective of when they join. It is not uncommon to witness relatively new comers earning many times more than their older peers. The sky is the limit.
Who are the top leaders in Mega Holdings and how do I contact them?
To contact our top leaders, just Google their names and you will find their personal websites, their Facebook fan pages and their Twitter accounts:
Dr.Hedi (International Ambassador): [email protected]
Mesut Opengin (Europe Agent): [email protected]
Enes Olgun (Mega Star): [email protected]
Mahmut Inan (Mega Leader): [email protected]
Fatih Yazici (Mega Leader): [email protected]
Selim Doruk (Top Leader): [email protected]
Fehim Aksac (Top Leader): [email protected]
Egemen Ozer (Top Leader): [email protected]
Selman Olgun (Top Leader): [email protected]
Ali Ural (Top Leader): [email protected]
Aksemsettin Kocabas (Top Leader):[email protected]
Dogancan Günes (Top Leader) : [email protected]
Ridvan Dereli (Top Leader) : [email protected]
Youtube Enes Olgun : Youtube.com/enesolgun
Twitter Enes Olgun: Twitter.com/enesolgun