Aaron Rashkin Sued For $10 Million by Wealth Masters International
August 6, 2013
By Team Business For Home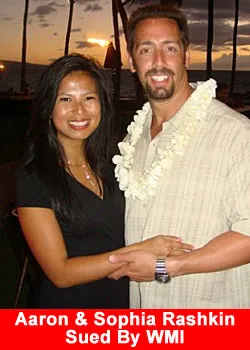 Kevin Thompson – the MLM Attorney on his website reports as follow:
Almost two years after leaving Wealth Masters International, our clients (Aaron and Sophia Rashkin – editor) were sued by WMI (Wealth Master International) for cross-recruiting.
Our clients have had experience leaving an MLM in the past (Xango). They knew what to do and they did it well. They left honorably, without incident as they've done in this case with WMI.
There was nothing malicious with their exit. There were no disparaging words. They simply wanted to go in another direction. And due to their decision, they now find themselves in a lawsuit for $10 million.
Our clients are being blamed for WMI's lackluster performance. On the contrary, WMI's losses are directly related to its pernicious business model.
We lay out our arguments in this Answer and Counterclaim regarding the validity of the WMI business model. In the interest of fairness, WMI's lawsuit can be found here.
Aaron Rashkin says:
CarbonCopyPRO was an online marketing company that Sophia & I used to market, which sold Information Products to home business owners, small business owners, entrepreneurs, & anyone looking to start a, home based business. WMI said, either:
A) Market WMI & stop marketing CarbonCopyPRO
Or…
B) Market CarbonCopyPRO & stop marketing WMI
We chose C, which was to continue marketing both, CarbonCopyPRO and WMI.
WMI then decided to terminate us, taking away our WMI downline, downline commissions, and commissions from WMI sales we had just made. When they decided to sue us two years later, we were shocked.
We've been professionals in this industry for over over 3 decades combined and never had any problems with any company. When WMI says we were somehow conspiring against them by raiding their business for something else; this is simply not true.
The arrangement worked fine between Sophia and I, CarbonCopyPro and WMI for a couple of years with WMI's consent. When they changed their arrangement with CarbonCopyPRO, we got caught in the crossfire.
We're not happy that we're in this lawsuit, but since we're in one, we're going to fight aggressively until it's resolved.