David Kirchhoff Resigns As Weight Watchers CEO – 2Q Profit Decrease 16%
August 3, 2013
By Team Business For Home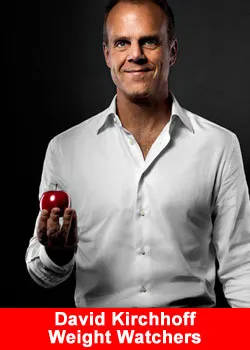 Weight Watchers International said Thursday Chief Executive David Kirchhoff has stepped down from the post to pursue other opportunities. The New York-based company also announced a second-quarter profit that fell 16% amid fewer paying members.
For the current fiscal year, the company downgraded its outlook for per-share earnings to a range of $3.55 to $3.70, down from $3.60 to $3.90. Shares tumbled 6.4% to $47.03 in late trading. As of the closing bell, the stock was down about 10.1% so far this year.
James Chambers will take the helm of the company and also retain his position as President. He joined Weight Watchers in January, taking over as President and COO. The move took effect on Tuesday.
"[Chambers] has shown tremendous leadership and has brought a fresh perspective to the business and its future opportunities," Kirchhoff said in a statement. "I am proud to leave this very special company in such capable hands."
Weight Watchers reported second-quarter net income of $64.9 million, or $1.15 a share, down for $77.5 million, or $1.36 a share, in the year-ago period. The latest period included a charge of $20 million, or 24 cents a share, related to debt refinancing. Excluding the charge, per-share earnings were $1.39.
Analysts were looking for earnings of $1.11 a share.
Revenue fell 4% to $465.1 million. Gross margin widened to 33.1% from 31.7%.
Total paid weeks fell 3.5%, while online paid weeks rose 4%. Meeting paid weeks fell 10% and attendance was down 15%.
Meeting revenue in North America was down 7.3%, while attendance fell 14.5% year-over-year.
Internet revenue continued to grow, posting a 6.6% increase in the second quarter.
"Current business conditions are challenging," Chambers said, adding that the company has made progress with its plans to cut costs. "While I'm excited about the team's plans for the January 2014 campaign, the 2013 recruitment weakness means that we'll start 2014 with fewer active members and therefore a lower earnings base."