Isagenix Compensation Plan Review – Tough Qualifications
August 18, 2013
By Team Business For Home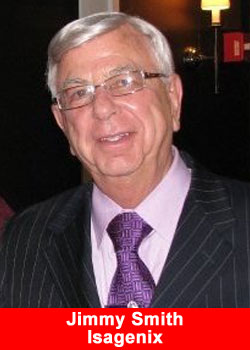 Isagenix Founder John Anderson and Co-Founders, Jim and Kathy Coover, were all retired when they were inspired to establish Isagenix––a company that could transform the health, wealth and happiness of people in search of a better quality of life.
Isagenix has experienced explosive growth since it's founding, because our leaders bring a unique combination of nutritional and direct-marketing experience and success to the company. Jim and Kathy Coover, "Our vision is to impact world health and free people from physical and financial pain, and in the process create the largest health-and-wellness company in the world."
Open for business internationally in nine countries (U.S., Canada, Puerto Rico, Australia, New Zealand, Hong Kong, Taiwan, Mexico and Singapore), the company is poised to open two additional new markets in 2013 alone.
As of 2013 the company annual revenue is in the $375 – 450 million range.
According to the Isagenix Earnings disclosure 2012:
The "business builder " category represents those who have made a significant commitment to build a part-time or a full-time business selling Isagenix products and have earned at least $500 in the previous year, either in commissions and bonuses or through retail sales.
As of December 31, 2012, 75 Associates (0.45% of those who have become business builders) had achieved "Isagenix Millionaire " status, meaning they have earned more than $1,000,000 on a cumulative basis since joining Isagenix. Those in this group averaged approximately six years as Isagenix Associates before becoming Isagenix Millionaires, with the longest being almost eleven years and the shortest being one year.
According to Isagenix website: Isagenix has created more millionaires than any other network marketing company thanks to our revolutionary products, unique business model and generous compensation plan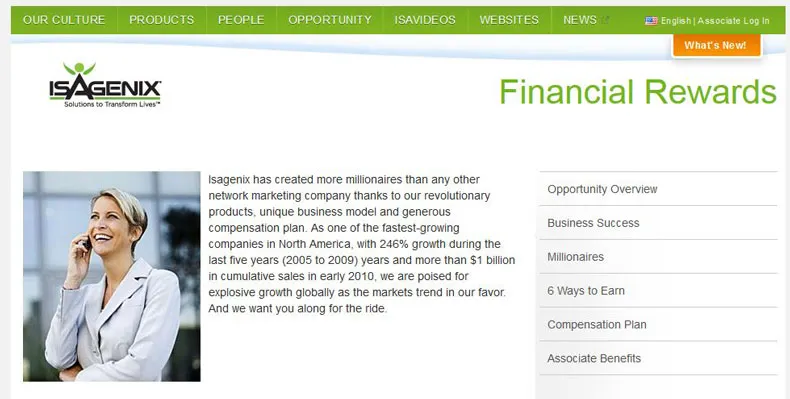 75 associates making $1 million on a culmulative basis is a great achievement, however companies as Amway, Nu Skin, Herbalife have far more millionaires, so this statement is crap.
From the Isagenix Compensation Plan the requirements to become executive associate, the top rank out of 4, are based on 3 hurdels:
To be eligible to be a Paid As Consultant and accumulate GV on both of your Sales Teams (Left and Right) you must be Active and maintain a minimum of one Active Personally Enrolled Associate on each of your Sales Team (Left and Right) at any time within the prior 30 days.
You achieve Star Consultant rank by being a Paid As Consultant and having five Personally Enrolled Associates who are Paid As Consultants (at least one on each your left and right team) at the same time within the prior 30 days.
Once you qualify your RBC (Retail Business Center) and achieve Star Consultant, your next step is to achieve Executive rank. You achieve this rank by being Active and having 10 Personally Enrolled Associates (5 on each of your Left and Right Sales Team), who are Paid As Consultant at the same time within the prior 30 days.
Conclusion
Compared with many other binary compensation plans were you need to enroll only 6 members for the top position, Isganix has with 10 personally enrolled associates, tough qualifications. When you accumulate 900 points in group volume (GV) and at least 300 of those points came from your minor volume sales teams and 600 points came from your major volume sales team, you earn a Team Bonus.
This is called a cycle. How much the value of a cycle is remains unclear.…
Isagenix Top Earners Est. Earnings are:
[private_platinum]

[/private_platinum]