Jim Dornan – Amway Passed Away
August 8, 2013
By Team Business For Home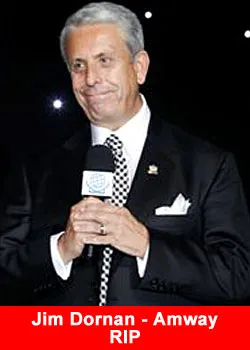 David Steadson, Amway Watcher reports:
Just thought I'd let the Network world know that a legend was lost yesterday. Amway Founders Crown Ambassador Jim Dornan died after a long battle with cancer.
Jim headed what is probably the largest networking organisation in the world, Network 21, and did so often outside the limelight, avoiding the controversy which seemed to plague some other Amway leaders.
The Dornan's network encircles the globe, with turnover that only a handful of individual network companies exceed. He and his wife Nancy did it by teaching integrity and respect above all. Respect for people who did not want to join, respect for people who quit, respect for people with differing beliefs.
Truly a legend, they made a difference not only in Amway and networking, but in the world, becoming the World Visions largest corporate sponsors of children through Network of Caring, building schools and orphanages in India and Africa, driving (and funding) power soccer for the wheelchair disabled to a whole new level.
He will be missed.
The Amway Hero Award GENEROSITY 2012 Jim & Nancy Dornan