Agel – $37 Million Annual Revenue Sold To CVSL
September 27, 2013
By Team Business For Home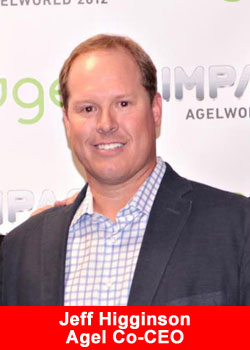 In 2009 Agel reported a revenue of $150 Million. After Glen Jensen left Agel sales went down the drain.
CVSL Inc.(stock symbol: CVSL) and Agel Enterprises LLC announced today the signing of a definitive agreement for CVSL to acquire Agel as part of its growth strategy in the direct selling industry. Agel's approximately $37 million in annual revenue will bring CVSL's total revenue to about $140 million.
Agel will allow CVSL to enter the $32 billion nutritional supplement market as well as the $90 billion skin care market, while establishing a global presence for CVSL and its companies.
Founded in 2005 and based in Utah, Agel offers a line of nutritional gel supplement products in markets around the world, including Europe, North America, Latin America and Asia. Agel's global presence means that all CVSL companies will gain fast track openings to enter multiple world markets without the hurdle of startup costs that would be required if they went global on their own.
Now, every CVSL company can be a global company, said CVSL chairman John Rochon.
Agel sells in more than 40 countries, including the United States, Canada, Australia, Italy, Russia, Ukraine, Japan, Hong Kong, Hungary, Israel, Malaysia, Netherlands, Poland, Mexico, Costa Rica, Chile, Taiwan, Argentina, Singapore, Thailand and the United Kingdom.
Bringing Agel into the CVSL family of companies is a huge step. Agel's brand and international footprint are foundations on which we can build something exciting in the category of nutritional products and also in the equally dynamic skin care category, said Mr. Rochon.
Nutritional products have historically done very well in direct selling, with companies like Herbalife, Nature's Sunshine, ViSalus, Shaklee and many others. Skin care also has been a strong direct selling category, with companies such as Avon, NuSkin, BeautiControl and Mary Kay, he noted. We believe we can make a mark in both categories.
This latest transaction means CVSL now has a presence in six major categories of direct selling. It is a fantastic launching pad, he added. This year alone, we've already brought in four direct selling companies and gone from zero to $140 million in direct selling revenue. Our strategy is working as we planned.
As in the case of the other three direct selling companies to join CVSL, the structure of the transaction does not involve dilution of existing shareholders.
Signing this definitive agreement with CVSL is great news for everyone in the Agel family around the world. Partnering with the CVSL team can help us grow and make the very most of the talent and outstanding products we have, said Jeff Higginson, co-CEO of Agel.
For both of Agel's current product categories, CVSL offers the advantage of a large manufacturing capability with ActiTech, a CVSL-affiliated company in Sherman, TX. ActiTech serves as CVSL's in-house manufacturing arm. ActiTech owns a 600,000 square foot, state of the art R&D, manufacturing, filling and warehouse facility for health and beauty, nutritional and consumable products.
The facility is ISO 9001 compliant and USDA certified organic, as well as Texas certified for food, drugs and cosmetics and is FDA inspected. It performs new product development, manages regulatory review and compliance, and handles testing and monitoring. Air and water environmental monitoring in the facility are performed daily and it operates a USP purified water system. The facility has full capabilities for large volumes of blending, filling and bottle labeling, including several filling lines, each capable of handling up to 120,000 units per day. The facility has done contract work for major corporate clients in the food, drug and cosmetic sectors.
In addition to the Agel transaction, since announcing its growth strategy a year ago CVSL has concluded transactions with The Longaberger Company, a 40-year old direct seller of hand-crafted baskets and home decor items; Your Inspiration At Home, an award-winning maker of spice blends from around the world; and Tomboy Tools, which offers a line of tools designed for women, as well as home security services.
Mr. Rochon said that CVSL expects to engage in additional transactions over the coming months. We are right on track with the strategy we announced a year ago. We are in active discussions with other direct selling companies about being part of CVSL. Our aim is to become a billion dollar business.
About CVSL (www.cvsl.us.com)
CVSL Inc. is an innovative public company pursuing a strategy of gathering together multiple companies in the direct selling, or micro-enterprise, sector. Each company maintains its own separate brand identity, leadership and product line, while achieving efficiencies through sharing of back office resources and best practices.