Amway Has 300,0000 Chinese Distributors – Paid $9,3 Billion In Combined Commissions
September 26, 2013
By Team Business For Home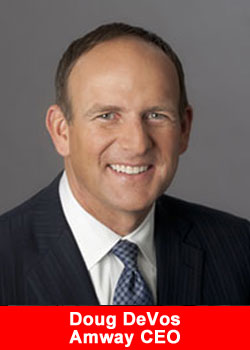 According to an article in Bloomberg, Amway has paid out $9.3 Billion in combined commissions to its 300,000 distributors:
Against a rainbow backdrop and the Chinese characters for glory and dreams, Cao, Amway's local chief, paints a glowing portrait: China has been the company's top market for nine years, with booming sales of Artistry cosmetics and Nutrilite dietary supplements. Amway also was a sponsor of China's team at the 2012 Olympics, Bloomberg Markets will report in its November issue.
"I can't say for sure that these champions were successful because of Nutrilite products, but I can say for certain that every medalist has taken a Nutrilite product before walking up to the winner's podium," says Cao, who's dressed in a gray suit and tie.
Amway offers great rewards, Cao tells the salespeople and potential recruits gathered before him: The company has paid 57 billion yuan ($9.3 billion) in commissions and royalties to Chinese distributors. It's taken the best salespeople on free trips to Paris and Rome. And it gives each of its 300,000 Chinese representatives the chance to be his or her own boss.
Cao introduces dozens of successful representatives, who tell the audience, "Believe in yourself and nothing is impossible." Gao Hanping, who left a job with the railway ministry for Amway, starts with a video showing his luxury car, a home with a garden and photos of his vacation in Las Vegas.
"People say working for Amway is tough; they don't want to do it," Gao says. "Hard work is the key to success."
Since its founding in small-town Michigan in 1959, Amway has pitched its direct-sales system — a corporatized version of peddlers going door to door — as a path to wealth and happiness. Now, its "American Way" depends increasingly on China, which accounted for almost 40 percent of parent company Alticor Inc.'s $11.3 billion in global revenue last year. That's a remarkable turnaround, considering that China banned direct selling entirely 15 years ago, endangering Amway's growth.
Amway won back its place in China by changing its business model and opening stores for the first time. It also improved its reputation by teaming up with America's most prestigious school: Harvard University.
Harvard Training
In a program bankrolled by Amway at a cost of about $1 million a year, Harvard's John F. Kennedy School of Government has been training Communist apparatchiks known as Amway Fellows. Since it started in 2002, the program has brought more than 500 Chinese officials to Cambridge, Massachusetts, to study public management for a few weeks. Every group also visits Amway's headquarters in Ada, Michigan, near Grand Rapids.
In a country where nothing is more valuable than guanxi, the term for the connections considered crucial to doing business, Amway has supersized its network thanks to the Harvard program. Though there are no public lists of participants, Bloomberg Markets identified 50 alumni through references in resumes in official publications and on websites.
The Amway Fellows include current leaders of Henan, Ningxia and Shaanxi provinces, with a combined population of about 138 million; the party secretaries of cities Nanjing and Wuxi; and the national vice ministers of civil affairs and industry and information technology.
Also on the list are two officials who became heads of provincial branches of what's now the China Food and Drug Administration, which approves the sale of nutritional products and cosmetics, Amway staples. Another alumnus is a former official in the government agency that polices direct selling.
Sales Surge
Since the program began, Amway's sales in China have surged more than fourfold. The turnaround is all the more striking because Amway — a company dogged around the world by accusations that it's a pyramid scheme — won over Chinese officials in part by painting itself as a crusader against such abuses. Pyramid schemes lure individuals to join a business that grows mainly by recruiting other people rather than by selling products to consumers.
Harvard has benefited from its association with Amway. The program has raised the profile in Asia of the Kennedy School, whose mission is to train enlightened public leaders and which was less well known there than the university's vaunted business school. The Kennedy School has started several similar programs for officials from Asia — a lead its elite peers have followed.