Jay Noland Is Taking SereniGy To A New Level
September 19, 2013
By Team Business For Home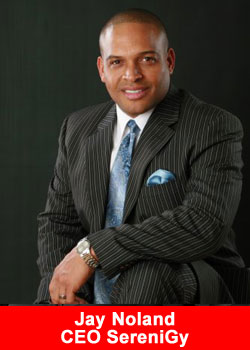 The Founder and CEO of SereniGy, Jay Noland, has the company set to soar to new heights. Founded on a culture of hard work and dedication, SereniGy quickly expanded from its original U.S. and Canadian base.
It now boasts distributor networks in South America, Europe, Asia and Africa, totalling a presence in over 50 countries.
SereniGy has international product warehouses in London, Mexico, Hong Kong, Costa Rica, Panama, South Africa and Colombia, with more warehouses being added in the near future.
During the third quarter, 2013, SereniGy will go through a restructuring process. It removed individuals from the staff whose intentions were to illegally attempt to take ownership and control from the company's founder. This attempt did not sway the Founder's resolve. SereniGy's Founder and CEO, Jay Noland, has assembled a new and highly qualified executive team that is ready to take the company to unprecedented levels. Mr. Noland has commissioned Adam Brandley, of the Independent Stock Market, to oversee the management operations of the company.
In recent weeks a large number of industry leaders with strong track records have joined the company , thus adding even more experience and greater potential. The positive feedback received throughout this process towards Mr. Jay Noland and his business philosophies has been highly commendable.
The leadership and expertise of the Founder and CEO is enabling highly effective stabilization as well as a strong presence in the areas of administration, logistics, products and great commissions to its distributors.
In the coming weeks , the company will continue returning SereniGy's strong presence in the industry. The focus of the company is conquering new achievements , based on integrity, loyalty, experience, and strong commitment to each of the company's distributors and customer.
Through Mr. Noland's vision, the intent of SereniGy is pure. This is demonstrated in the fact that since the start of the company Jay Noland teamed up with Dr. Amos Abuga and has financially supported over 340 children through the company's Orphanage School in Kenya, Africa. During the process of building the company, the SereniGy Global Foundation (501c3 Non-Profit) was created with the goal of helping to support millions of children globally.
SereniGy will become more respectable in the industry, under the leadership of its CEO Mr. Jay Noland. Mr. Noland has shown how to navigate the company through the tough challenges. The revival of SereniGy is here. The company truly is going to a new level!

For more information feel free to visit the company website at www.SereniGy.com