John and Tiffaney Malott become Seacret Direct's first Crown Agents
September 17, 2013
By Tina Williams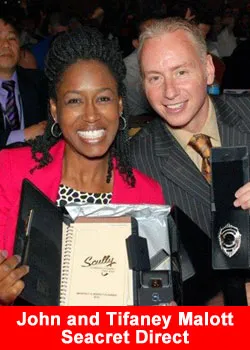 John and Tiffaney Malott have been recognized as Seacret Direct's first Crown Agents, earning a $250,000 rank advancement bonus and $4000 a month car bonus.
The Malott's are one of several Legal Shield associates that have moved over to Seacret in the last few years.
His fan page says Drug Addict, gang member, criminal, drop out, loser, reject, failure, were all words used to describe me in my past. All true at one point or another.
Just further indication that background in this industry is irrelevant to your success.
According to Seacret Direct's website, their mission statement is as follows:
Mission Statement
We at SEACRET™ personally hold ourselves accountable to a culture of:
Building superior and loyal relationships with a commitment to our partners, leaders, sales force, and clients, and a spirit of entrepreneurship.

Empowering our people with tangible skills to create sustainable success for their families and future.

Maintaining a winning attitude, continuously evolving, and constantly pursuing both personal and professional excellence.

Recognizing and celebrating the achievements of others.

Never giving up on our dreams, with the ultimate goal of creating a successful business community that celebrates life with happiness, kindness, gratitude, joy, and humility.
Seacret has sold over $500,000,000 of products through retail channels. It originally began as a mall kiosk product opportunity and then expanded into direct selling in recent years. John and Tiffaney Malott are just one of their Seacret Agents who have achieved great success with the growing company.