Seacret-Direct Becomes a Billion Dollar Company
September 20, 2013
By Tina Williams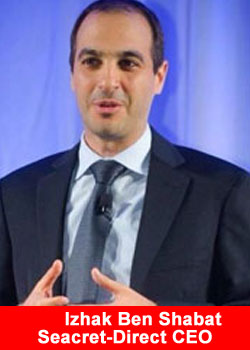 Seacret-Direct, a skin care company based in Arizona, has joined the small league of network marketing companies to become a billion dollar company.
The company made their announcement today just as they crossed the threshhold into a billion dollars in sales. Seacret-Direct's market is in the United States, Mexico, and Korea.
They state their inspiration as: As sales began to skyrocket, we were able to diversify our product line. We continued to grow rapidly due to the combination of strong work ethic, a powerful product line, team dedication, and the growing demand for rare minerals from the Dead Sea.
As revolutionary as our products are, we know the heart and soul of this company comes from a passion to improve lives. Helping people achieve younger, healthier skin and empowering our sales team to grow stronger requires this passion to share our SEACRET™ with the world.
The company started with brothers Izhak and Moty Ben Shabat taking it to $600 million in 6 years. It started as a kiosk in the mall skin care treatment where one could buy into the kiosks before moving into the network marketing arena.
They describe their mission statement and core beliefs as follows:
We at SEACRET™ personally hold ourselves accountable to a culture of:
Building superior and loyal relationships with a commitment to our partners, leaders, sales force, and clients, and a spirit of entrepreneurship.

Empowering our people with tangible skills to create sustainable success for their families and future.

Maintaining a winning attitude, continuously evolving, and constantly pursuing both personal and professional excellence.

Recognizing and celebrating the achievements of others.

Never giving up on our dreams, with the ultimate goal of creating a successful business community that celebrates life with happiness, kindness, gratitude, joy, and humility.
and core values as…
Deliver a world-class customer experience
Be a product of the product
Embrace change and be daring
Operate with a spirit of gratitude and humility
Become the person you want to attract
Communicate with love and respect
Empower and equip through continual growth and development
Build a happy team and loyal family spirit
Keep it simple, positive, and fun
Create an environment of victory and celebration