Talk Fusion Gives Back to SPCA Florida's Biggest Annual Fundraiser
September 5, 2013
By Team Business For Home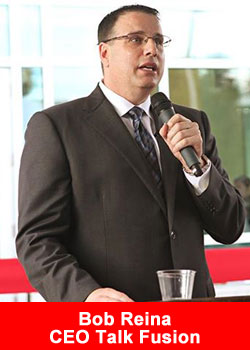 Talk Fusion, a rapidly growing global Video Communication Company, announced today that—in addition to being a leading sponsor for the event—Bob Reina and Allison Roberts will be chairing the committee responsible for SPCA Florida's biggest yearly fundraiser: Putting on the Ritz. The event will take place on Saturday, October 26, 2013 at the Florida Air Museum at SUN 'n FUN in Lakeland, FL— from 6 pm-11 pm—and all proceeds benefit SPCA Florida.
Talk Fusion is the home of Top Earners as Minh and Julie Ho, Rod Roder, Vjacheslav Ushenin, Svetlana Shodunke among many others.
In the last 6 months, Talk Fusion has become a major benefactor for SPCA Florida. As part of a $72,200 donation made to SPCA Florida at the company's "Believe" corporate event in April 2013, Talk Fusion agreed to fund a number of much-needed assets. They purchased two new vans, built a feral cat patio and designed a contemporary, new branded look for the vans, several other vehicles, and the charity's mobile clinic.
The decision to also become involved in the Putting on the Ritz Event is all part of the company's commitment to giving back and helping companion animals in their community. "SPCA Florida does so much for neglected, abused and abandoned animals in our community. We're proud to be a part of the Event," said Talk Fusion Founder & CEO, Bob Reina.
"This is an exciting black-tie gala that will raise a lot of needed funds for SPCA Florida and provide a fun, upscale evening out for the community. There will even be a very special roast of well-known Polk County Sheriff, Grady Judd," said VP of Training & Development, Allison Roberts.
Other Putting on the Ritz event highlights include a gourmet dinner, live entertainment, exclusive silent auction and a K-9 Officer of the Year Award.
For more details and ticket information, please contact the SPCA Florida at (863) 577-4604 or visit https://bit.ly/184I2hU. To donate to the event, please go to https://bit.ly/1dnkGv5.
About Talk Fusion
Talk Fusion is a rapidly growing global company dedicated to changing lives through providing cutting-edge personal and business Video Communication Products and a lucrative business opportunity. Talk Fusion's innovative products are marketed person-to-person by Independent Associates in more than 140 countries.
The company was founded in 2007 by CEO Bob Reina and is based on a unique perspective of the Relationship Marketing business model. While other companies pay commissions weekly or monthly, Talk Fusion introduced the world's first and only Instant Pay Compensation Plan. Bringing the world together through the power of video by delivering a superior solution is a top priority because Reina—a former Hillsborough County Sheriff's Deputy—and the Talk Fusion team have a passion and enthusiasm for charity, and helping people live life on their own terms.
The company adheres to the highest ethical business practices and is an accredited member of the BBB and prestigious Direct Selling Association (DSA). Reina firmly believes that "with great success comes greater responsibility." To that end, his commitment to giving back has benefited numerous charitable organizations. Like Talk Fusion at www.facebook.com/TalkFusion. Learn more about us at www.TalkFusion.com, www.talkfusiongivesback.com and www.talkfusioninthenews.com.