Tupperware India Creating Apps To Find Distributors
September 10, 2013
By Team Business For Home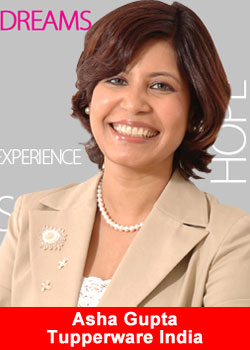 US-based direct marketing company Tupperware is eyeing the online platform to sell its range of storage containers.
Asha Gupta, Managing Director, Tupperware India, said, "Since we already have about 1 million fans on our Facebook page, we want to leverage this by creating apps to identify the nearest distributor for our customers.
We have always been thinking of getting into online selling officially for customer convenience."
In the US, Tupperware gets 2 per cent of its revenues from online sales. In India it may be matter of time before it officially starts using it as an additional distribution channel.
In fact, some portals already sell Tupperware after procuring products from its distributors. Its products are easily spotted even at retail stores despite the company not selling it directly to retailers.
Besides, Tupperware has also decided to enter new categories such as water purifiers exclusively for the Indian market. It now plans to take its water purifier brand TupperSure to emerging markets such as Indonesia, South Africa, Russia and Brazil.
Its water purifiers are manufactured at its facilities in Dehradun and would possibly serve as the base for supplying it to the rest of the emerging economies across the world.
On categories such as cosmetics and nutraceuticals, Gupta said "it may be a matter of time but in the long term new categories such as nutraceuticals will get added". In India, the southern markets continue to generate the bulk of sales for Tupperware. "In the south, consumers are not price sensitive and are more quality conscious and willing to upgrade," said Gupta.