William Stiritz – The Largest Individual Herbalife Shareholder $322 Million
September 4, 2013
By Team Business For Home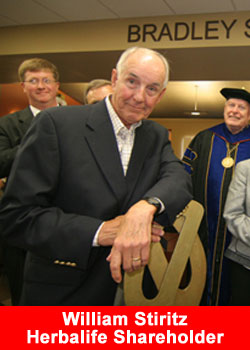 William Stiritz is since yesterday the largest individual shareholder in Herbalife. The 77-year-old investor disclosed in a 13G regulatory filing with the SEC today that he personally owns 5,382,362 shares, or a 5.22% stake.
The second biggest individual shareholder is Herbalife's CEO, Michael Johnson. Johnson owns over a million shares.
Stiritz's Herbalife stake is worth about $322 million or so. That a huge stake for an individual.
It's unclear what his personal networth is exactly. We couldn't find any record of Stiritz on any of the billionaire's lists. [hat tip: @TheSkeptic21]
Stiritz is currently the CEO and chairman of food company Post Holdings. He's also Post's largest individual shareholder with a 1.13% stake. He owns approximately 369,662 shares, Bloomberg data shows. That would make his Post stake worth just over $15 million.
Mr. William P. Stiritz, Bill serves as the President of Westgate Equity Partners L.P., and Westgate Group. Mr. Stiritz has been a Partner of Westgate Group LLC since September 1998.
He has been the Chairman, Chief Executive Officer and President of Agribrands International Inc., since April 1998. Mr. Stiritz has been the Chairman and Chief Executive Officer of Post Holdings Inc., since September 27, 2011.