Xango Introduces New Compensation Plan and Products
September 27, 2013
By Team Business For Home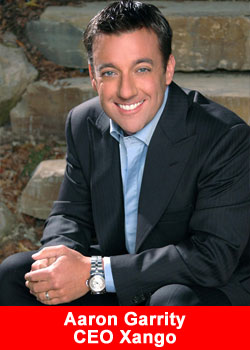 XANGO, LLC, the first company to bring mangosteen to a global market, announced to a sold-out gathering at its Bold international convention a groundbreaking new product and compensation system designed to address cellular health for an aging population and lift people out of economic and financial despair.
XANGO is privately owned and powered by a global network of more than 2 million independent distributors in the U.S.A. and more than 40 international markets including Canada, Mexico, Australia, Japan, Italy, South Africa and more.
XALO Ageless by XANGO, available for purchase for the first time today, aligns with XANGO's legacy as a wellness opportunity company, and pairs perfectly with patented XANGO Juice for a complementary physical and financial wellness boost.
Since its launch 11 years ago, XANGO Juice has propelled a new era of direct selling and become the benchmark by which startups measure themselves, said XANGO CEO and Chairman Aaron Garrity. XANGO's success has been built on the pairing of innovative, effective products with the industry's most rewarding compensation system, designed for people of all ages and situations.
Continued Garrity, Today, we're boldly furthering that legacy through the XALO Ageless product and its accompanying XALO compensation system, which, when positioned alongside XANGO® Juice, makes XANGO the best opportunity for people wanting to feel that 'it's safe to dream again.'
Based on XANGO's foundation of whole-fruit mangosteen and formulated with proprietary botanical blends that provide an absolutely unique, one-of-a-kind market offering, XALO Ageless addresses wellness at the cellular level.
Addressing the associated business opportunity, Garrity said,
Since the very beginning, XANGO has focused on building its compensation system upon the principle that those who are new to the business should be able to succeed and make money while they're learning the business. We're continuing this commitment with the XALO compensation plan, but we're also adding new incentives that help people set and reach short- and long-term goals as they build their business for the long term.
Revolutionary Business Opportunity
The XALO compensation plan includes key tenets of XANGO's renowned, classic compensation plan such as true 50-percent payout of commissionable volume, unilevel commissions, dynamic compression and many more elements to reward the newest and most tenured distributors alike. Current distributors retain their rank and volume from the existing XANGO compensation plan while enjoying the enhancements of the accelerated XALO plan as they promote XALO Ageless and accompanying products Limitless, Ignite and Reload. New distributors gain universal access to the XALO plan from day one.
While promoting XANGO Juice, XALO Ageless and associated products, XANGO distributors may enjoy the following incentives as part of the new XALO plan:
Access to an unprecedented five percent of commissionable volume on the ninth level

A lifestyle bonus named Drive Your Own Dream

Standard and accelerated rank-advancement bonuses

New, exciting reward trips
All of this is designed to provide accelerated growth opportunities for XANGO distributors of all ages. Built in partnership with XANGO's distributor leaders, the XALO plan fuels demand by aging baby boomers as well as the fastest-growing segment of XANGO's business: young millennials participating in the distributor-led MB30 (stands for Millionaire by 30) movement taking hold on a global scale.
A major pillar of the XANGO plan is the ability that everyone—old and young, new to the business and multi-decade veterans—has to succeed, said Garrity. Particularly, we're seeing a large number of young people fresh out of college and finding the traditional economy lacking in good jobs. They're turning to XANGO to help them reach their dreams. Our business fits this generation's desire for social networking and entrepreneurship built on lifting others to higher ground. We're changing lives.
Targeting Cellular Health to Combat the Effects of Aging
As the developed world's population continues to age, added stresses such as limited employment, economic uncertainty and environmental elements contribute toward declining health. While proper nutrition and regular exercise remain the most effective way to improve wellness, advanced science is leading to new understanding about new opportunities to revitalize the cells' effectiveness. Proper supplementation can help reduce one's age to a number, rather than an absolute measurement of physical and mental wellness.
XALO Ageless by XANGO helps fight the effects of aging—combating free radical damage and enhancing cellular health—to help boost energy and endurance, improve blood circulation, strengthen mental clarity and muscle tone, and even contribute to weight loss and improved sexual wellness.*
XALO Ageless consumers typically experience an immediate boost in their energy levels and mental clarity, then within a month report improved muscle tone and better immune function. XALO Ageless combines a whole-fruit mangosteen base with a host of natural ingredients to form three proprietary, globally consistent blends to boost health:
Cellular Regeneration Blend

Rejuvenation Blend

Cardiovascular Blend
Together, these blends work synergistically with XANGO Juice and Limitless, Ignite and Reload to enhance the effects of good nutrition and daily exercise, helping people feel younger, more energetic and happier. Consumers can purchase XALO Ageless from any of XANGO's 2 million independent distributors. For best results, people are recommended to mix 6–8 ounces with water and take nightly, one to two hours before bedtime. XALO Ageless starts at $125 for a one-month supply or $120 on monthly ADP (Automatic Delivery Program). For more information, visit https://www.xaloageless.com.
About XANGO, LLC
A leading global nutrition company, XANGO, LLC, is a recognized leader in health and wellness products. Currently expanding into a wider range of botanicals, XANGO was the first company to market a premium mangosteen beverage, XANGO Juice, to consumers worldwide.
XALO Ageless by XANGO complements XANGO Juice to fight aging at the cellular level and rejuvenate the body and mind. XANGO's roster of premium, functional products also includes FAVAO by XANGO; XANGO Reserve; the XANGO 3SIXTY5 multi-vitamin with a powerful Active Defense Complex featuring Primactive, Glimpse Topical Skin Nutrition; Eleviv for natural, youthful vigor; Jun by XANGO Family Care with natural, toxin-free personal-care products for the entire family; and the Precis line of targeted nutritional supplements.