Youngevity International Announces Acquisition of GOFoods Global
September 10, 2013
By Team Business For Home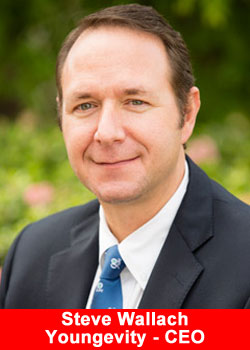 Youngevity Essential Life Sciences, a wholly owned subsidiary of Youngevity International Inc., (OTCQX: YGYI) (www.YGYI.com), announced today that it has entered into a definitive agreement to acquire certain assets and assume certain liabilities of GOFoods Global (www.gofoodsglobal.com), an innovative global food company.
As a result of this business combination, Youngevity distributors and customers will have access to GOFoods Global unique line of healthy and nutritious extended shelf-life food products. GOFoods Global distributors and clients will gain access to more than 500 high-quality, technologically advanced products offered by Youngevity; including nutritional products, sports and energy drinks, health and wellness-related services, lifestyle products (pets, spa and bath, garden), gourmet coffee, skincare and cosmetics.
GOFoods is a premier direct seller in daily use, quick fix, extended shelf-life food and markets its products in the United States and Canada through thousands of active Independent Business Owners. GOFoods healthy, nutritious food reserves are easy to prepare and serve for a meal, storable for future times of need, and easy to share with others.
The unique packaging of GOFoods products makes it possible to store GOFoods meals for many years while maintaining its nutritional value. GOFoods entrées, bakery goods, breakfasts, and beverages are nutritious, free of MSG, GMO's, trans fats, and hydrogenated oils. The product line includes gluten-free, soy-free, irradiation free, lactose-free and vegetarian products.
All of the GOFoods food products feature the OU (Orthodox Union) Kosher certification, vegetarian, and carry the Nutriversal Seal of Approval. The Nutriversal seal shown on all packages indicates these products have met the highest quality standards in the food service industry and each package delivers the finest food available.
The GOFoods philanthropy model is served through the GOFoods Foundation which partners with charitable organizations around the country providing food in the areas of greatest need. For every ten packages of food purchased by consumers, GOFoods donates one package of food or its equivalent in servings to those who are at risk for hunger.
"The accelerating effect of Youngevity's growth strategy is nothing short of remarkable, commented Brad Stewart, President and Founder of GOFoods. "GOFoods is proud to be a part of the Youngevity family and we can now offer the best nutritional and lifestyle products available anywhere while expanding our company's short and long-term goals associated with clean and safe food. We are excited to combine the strengths of these two dynamic organizations and we are well positioned for accelerated growth in this massive market of food and wellness."
"The GOFoods acquisition will expand our presence in the food and wellness market," said Steve Wallach, Chief Executive Officer of Youngevity International. "We proudly welcome GOFoods Global to our growing Youngevity family and we anticipate an enthusiastic response as we provide our distributors and customers with more high quality product and service offerings."
About Youngevity International, Inc.
Youngevity International Inc., (OTCQX: YGYI) (www.YGYI.com) is a fast-growing, innovative, multi-dimensional company that offers a wide range of consumer products and services, primarily through person-to-person selling relationships that comprise a "network of networks." The Company also is a vertically-integrated producer of the finest coffees for the commercial, retail and direct sales channels. The Company was formed after the merger of Youngevity Essential Life Sciences (www.youngevity.com) and Javalution Coffee Company in the summer of 2011. The company was formerly known as AL International, Inc. and changed its name to Youngevity International Inc. in July 2013.
About GOFoods
GOFoods is a leading global food company. As the world's premiere direct seller in daily use, quick fix, extended shelf-life food, GOFoods markets its products in the US and Canada through thousands of active Independent Business Owners. GOFoods product line includes soy free, gluten free, lactose free, irradiation free and vegetarian products as well as non-GMO, no trans fats, no hydrogenated oil, no added MSG and made in the USA. All food products feature the highly respected Orthodox Union Kosher certification. Learn more about GOFoods and its products at www.gofoodsglobal.com.