ACN European Training Event – 10,000 Attendees In Barcelona
October 8, 2013
By Team Business For Home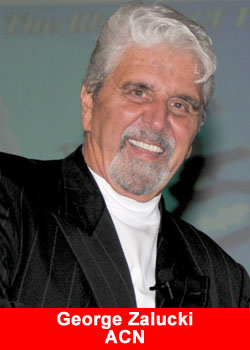 ACN's 20th anniversary celebrations throughout 2013 continued at the Barcelona International Training Event as thousands of people were on hand for three days of top-notch training, exciting announcements, captivating promotions and a compelling presentation from special guest speaker Mr. Chris Widener.
ACN is a MLM company that provides telecommunications, television, energy and other services through a network of independent sales agents known as Independent Business Owners (IBOs)
Based in Concord, North Carolina, USA, ACN began operations in the United States in 1993 as American Communications Network. It extended operations to Europe in 1999, to the Pacific in 2006, to Asia in 2011, and now operates in 23 countries, on four continents.
Rank Advancements celebrated in Barcelona:
There were a dozen promotions to the position of Regional Vice President with Representatives hailing from seven different countries:
Daniele Maurelli from Italy

Stoika Gyözö from Hungary

Marvin Foe Aman from the Netherlands

Frédéric Bolley from France

Jimmi Jeppesen from Denmark

Céline Bordenave and Jose Angel Lorigados from Spain

Stéphane Dos Santos Martins from France

Dani Balogun from the Netherlands

Nicola Venticinque from Italy

Marcel Bischof and Marie-Thérèse Chevalley from Switzerland

Michel Destruel from France

Emilio Chaparro Beltrán, Ainoha Chapparo, Ettore Di Tuorro and Nany Díaz from Spain
A total of 27 newly promoted Regional Directors were also congratulated on stage by the Co-Founders and the European Vice President of Sales, Wayne Holbrook.
ACN welcomed special guest speaker Mr. Chris Widener, who provided the crowd with insights on how to become a transformational leader. Alongside this guest speaker were many top Representatives at ACN including Senior Vice Presidents and Regional Vice Presidents:
Filippo Silvi – The key to success: sponsoring and duplication

Danny Volonino (North American Circle of Champions Member) – Taprooting

Dominique Cano-Flores – Three essential beliefs for success

Brian Sax – How to create a presentation machine

Jamal Uddin – Getting started

Art Napolitano – Key wellness strategies

Mathieu Lamontagne – Sorting for leaders

George Zalucki – Leadership

Myriam de la Sierra & Bash Bokhari – Recruiting

Asos Harsin – Promoting Events

Levis Marcelino Cassino & Liliana Andrea Gomaris – How to market the Benevita Weight Management System
BONUS ANNOUNCEMENTS
ACN Co-Founder, Mike Cupisz, announced a new Team Coordinator Bonus for the month of October, 2013, (retroactive to the 1st October 2013):
New Representatives who earn the position of Team Coordinator in 120 days will earn a bonus of €5,000 / £4,300
Ronald McDonald House Charities
ACN and the Co-Founders believe in always giving back to the community they visit. On Friday, Mike Cupisz welcomed Angel Bataller, from the Spanish division of Ronald McDonald House Charities, to the stage to present to the audience.
Everyone at the event showed their generosity throughout the weekend and the total amount of donations was matched euro for euro by the Co-Founders. On Sunday afternoon, the Co-Founders presented a cheque in the amount of €21,724.78 to Joan Ramon Cazorla from Ronald McDonald House Charities. Thank you to all who donated to this worthwhile cause.
THE NEXT EVENT
International events are the best way to grow your business and present the ACN Opportunity in the most compelling environment you can find. Be sure to pre-register today for the ACN International Convention to be held in Rotterdam, the Netherlands from the 28th of February to 2nd March, 2014.
You can also pre-register on a mobile device via www.acnreg.eu. This event will feature special guest speaker and Vice President of Leadership Development, Mr. Larry Raskin, and you will not want to miss this chance to hear from him!