ACN Website Awarded Silver and Gold At the 2013 W³ Awards
October 23, 2013
By Team Business For Home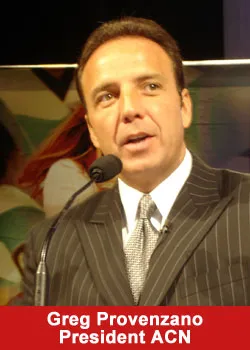 ACN, Inc was announced as the recipient of a gold and silver award for web design in the 2013 W³ Awards in late September.
ACN's corporate website, https://www.acninc.com took home a 2013 Gold Award in the category of Visual Appeal, and a 2013 Silver Award for Structure and Navigation.
"When we set out to do something, we always plan to do it well," said ACN President and Co-Founder Greg Provenzano.
"But it's not about receiving awards; it's about representing our company well and providing the best possible tools for our Independent Business Owners. However, being recognized for our website by such a prestigious panel is certainly rewarding – and further proof of a job well done."
Receiving over 4,000 entries, the W³ Awards honor outstanding websites, web marketing, web video and mobile apps created by some of the best interactive agencies, in-house designers, and creators worldwide.
Entries were judged by members of the International Academy of the Visual Arts, an invitation-only body consisting of top-tier professionals from a "Who's Who" of acclaimed media, interactive advertising and marketing firms.
"We were amazed at the caliber and quality of work we received this year. Our winners continue to push the envelope of Internet creativity and web design, and it is gratifying to see such great work from the smallest agencies to the biggest firms" said Linda Day, the director of the IAVA.
"On behalf of the over 500 members of The International Academy of the Visual Arts, we are honored to recognize our winners as they continue to set a high standard of excellence for Web development."
About ACN, Inc
Founded in 1993, ACN is the world's largest direct seller of telecommunications, energy, and other essential services for residential and business customers. ACN provides the services people need and use every day including Digital Phone Service, Local & Long Distance, Wireless, Energy, Merchant Services, Television, Home Security & Automation, High Speed Internet and Technical Support. ACN operates in 23 countries with offices located throughout North America, Europe, Asia and the Pacific.
About the W³ Awards
The W³ Awards honors creative excellence on the Web, and recognizes the creative and marketing professionals behind award winning Websites, Web Video and Online Marketing programs. Simply put, the W³ is the first major Web competition to be accessible to the biggest agencies, the smallest firms, and everyone in between. Small firms are as likely to win as Fortune 500 companies and international agencies.
The W³ Awards is sanctioned and judged by the International Academy of the Visual Arts, an invitation-only body consisting of top-tier professionals from a Who's Who of acclaimed media, advertising, and marketing firms. Please visit https://www.iavisarts.org for a full member list and additional information.
For more information about the W³ Awards, please visit https://www.w3award.com.
ACN Top Earners, the est. earnings are as follows:

[private_platinum]
[/private_platinum]