LifeVantage New Jersey Sponsor Real Salt Lake
October 31, 2013
By Team Business For Home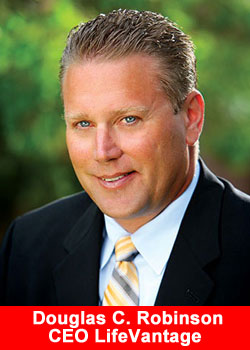 There will be something new on the front of the Real Salt Lake jerseys next season.
The team announced a long-term, multi-million dollar jersey-front sponsorship with LifeVantage on Tuesday; the partnership takes effect Jan. 1, 2014.
This means the jersey-front sponsorship between RSL and XanGo is coming to an end. That partnership began in 2006 and was the first jersey-front sponsorship in U.S.-based major league sports.
We're thrilled to partner with LifeVantage for our jersey-front sponsorship, Real Salt Lake President Bill Manning said in a news release.
LifeVantage is showing tremendous commitment to Real Salt Lake with this partnership. We're excited to welcome them to what we call 'the RSL Family' and we relish the opportunity to continue to grow the club and the sport with such a vibrant locally-based and growing company by our side.
LifeVantage is a science-based network marketing company headquartered in Salt Lake City. According to the release, LifeVantage is dedicated to visionary science that looks to transform wellness and anti-aging internally.
I could not be more excited about the partnership between our two organizations, said LifeVantage President and Chief Executive Officer Douglas C. Robinson in the news release. This is a tremendous opportunity for LifeVantage to partner with such a respected organization in Real Salt Lake.
As Major League Soccer popularity continues to grow, the LifeVantage brand will benefit from high-impact exposure in stadiums, on television, in advertising and player appearances across the country and around the world. This is truly an exciting and proud moment for LifeVantage.
Several other MLS teams also have jersey-front sponsorships with corporations, including Xbox, Volkswagon and UnitedHealthcare.
XanGo founder and CEO Gordon Morton expressed appreciation for the partnership the corporation had with Real.
Real Salt Lake and XanGo are proud of the history we made in 2006 when we announced the first jersey-front sponsorship in U.S.-based major league sports, he said in the release.

This bold deal set a precedent for Major League Soccer, and many similar deals followed suit, helping solidify high-level professional soccer in the U.S. and Canada for many years to come.