Organo Gold Launches Retail Channel
October 11, 2013
By Team Business For Home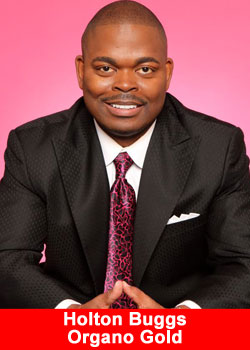 Organo Gold, the gourmet coffee company that caters to consumers' active lifestyles, today announced its launch of The Coffee Connoisseur Club, an exclusive membership club for retail consumers of Organo Gold products.
In celebration of this new retail channel, OG is inviting all consumers to become connoisseurs through its free coffee for a year sweepstakes – "Coffee 365" – via the Organo Gold Official Facebook page.
"We created the Coffee Connoisseur Club to meet the growing customer demand for our products," stated Holton Buggs, Executive Vice President of Sales and Marketing at Organo Gold. "The Club is designed to reach consumers by offering convenience, value and a chance to share the Organo Gold experience with others.
The Club is an excellent way to introduce Organo Gold to a large number of consumers who are looking for products that fit their active lifestyle. Opening a direct retail channel also gives our Independent Distributors a way to meet the needs of their customers."
A Unique Retail Channel with Club Benefits:
The Coffee Connoisseur Club is a uniquely designed, customer-centric, lifestyle convenience program that caters to today's consumers. The Club can be accessed directly through coffeeconnoisseurclub.com or through an Organo Gold Independent Distributor. There are three ways to participate in the Club:
1. Customer: Purchase your OG products directly on the website at your convenience and enjoy them whenever you want.
2. Club: Sign up for automatic monthly product deliveries of $50 or more, and you'll become a Coffee Connoisseur Club member. The membership immediately entitles you to a special pricing discount with the potential of additional product promotions and loyalty rewards throughout your membership.
3. Referral Program: Through "Sip, Sample, Share," a unique referral program, Club Members can earn points to redeem for free products worth up to $50. It is as easy as referring three customers for Club membership. Specific details are on the Club website.
Calling All Coffee Connoisseurs
Kicking off Organo Gold's new consumer channel is the Coffee 365 sweepstakes, offering a grand prize of free coffee for a year. To enter, consumers can simply visit the official Organo Gold Facebook page and enter how many cups of coffee they drink in a typical day. The contest runs through November 30, 2013, and is open to consumers in the United States and Canada. First prize is a one-year supply of Organo Gold Coffee (2 boxes per month), Second and third prizes are a $200USD gift certificate for OG products available at coffeeconnoisseurclub.com.
Founded in 2008 and celebrating its fifth anniversary year, Organo Gold remains focused on its mission to bring the treasures of the earth to the people of the world through its Ganoderma-infused coffee and other products. OG meets this mission through the principles of the Napoleon Hill Foundation, of which the company has a long-standing and exclusive collaboration. Organo Gold offers its suite of products through its Independent Distributor network and to consumers through its Coffee Connoisseur Club.
About Organo Gold
Founded in 2008 with headquarters in Vancouver, British Columbia, Organo Gold is a global gourmet coffee company that sells Certified Organic Ganoderma lucidum through a variety of coffees, teas, nutraceuticals and personal care products. Organo Gold offers its suite of products through its Independent Distributor network and to consumers through its Coffee Connoisseur Club.
The company currently operates in over 30 countries and is privately held.
Organo Gold Top Earners – The est. earnings are as follows:
[private_platinum]
[/private_platinum]