Talk Fusion CONNECT In Final Stage
October 4, 2013
By Team Business For Home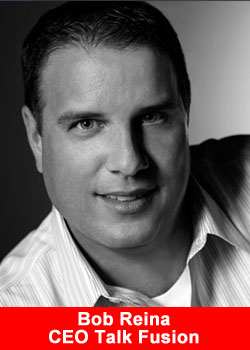 Talk Fusion's latest and most highly-anticipated product is in the final stages of testing and is already getting incredible reviews. The video communication and relationship marketing company announced the development of the premier 3-in-1 Talk Fusion CONNECT in August.
"We are taking our already exceptional Video Conferencing and Live Broadcasting products, combining them with Desktop Share and further enhancing them by adding more design elements, presenter features and broadcasting capabilities," said Allison Roberts, Talk Fusion's VP of Training & Development.
"Our goal is that once Talk Fusion CONNECT has been completed, it will rival—if not surpass—any other live broadcasting or video conferencing service available."
Founder & CEO Bob Reina recently invited top leaders to the Talk Fusion corporate offices in Brandon for a special sneak peak demonstration of Talk Fusion CONNECT.
"I'm speechless!" said Royal Blue Diamond Rob Roder, one of the company's top-ranked leaders. The value of this product speaks for itself."
"It has absolutely amazed me!" said Blue Diamond Leslie Brown, another top-ranked Talk Fusion leader who was also present during the demonstration.
Dr. Jonathan Chen, Talk Fusion's Director of Information Technology and one of the most prolific programmers in the United States, led the development of Talk Fusion CONNECT and shared his insight on the new product. Dr. Chen recently gave a virtual walk-though of the product to a larger cross-section of Talk Fusion leaders, who responded with great astonishment.
"It's not an upgrade, it's a revolution!" said Dr. Chen, touting it as the first global web-based video communication product and adding that users will have their own private video conferencing lines with 24/7 access.
Beta testing for Talk Fusion CONNECT is in its final stages and the product is expected to launch soon.
About Talk Fusion
Talk Fusion is a rapidly-growing global company dedicated to changing lives through providing cutting-edge personal and business Video Communication Products and a lucrative business opportunity. Talk Fusion's innovative products are marketed person-to-person by Independent Associates in more than 140 countries.
The company was founded in 2007 by CEO Bob Reina and introduced the world's first Instant Pay Compensation Plan. Talk Fusion adheres to the highest ethical business practices and is an accredited member of the BBB and the prestigious Direct Selling Association (DSA). Reina firmly believes that "with great success comes greater responsibility." To that end, his commitment to giving back has benefited numerous charitable organizations. Learn more about us at www.TalkFusion.com, www.talkfusiongivesback.com and www.talkfusioninthenews.com and "Like" Talk Fusion at www.facebook.com/TalkFusion.