Tickets For Talk Fusion's IMAGINE 2014 Event Selling Fast
October 8, 2013
By Team Business For Home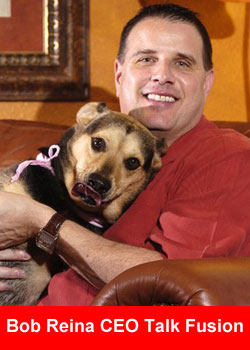 Video communication and relationship marketing company Talk Fusion has announced open registration for IMAGINE, a four-day event of celebration, recognition, awards and training.
The early registration sales for the April 2014 corporate event in Tampa is surpassing all expectations.
Talk Fusion, home of Top Earners, Minh and Julie Ho, Vjacheslav Ushenin, Svetlana Shodunke, Rob Roder, and Artur Kachanov among many others.
The event, which will be held in Tampa, Florida in April of 2014, is one of many events Talk Fusion hosts to recognize its Associates for their accomplishments and contributions to both the business and to helping others in their communities and around the world.
In addition to multiple corporate gatherings in the company's hometown of Tampa, Talk Fusion has also hosted many worldwide events over the years, including in Moscow, Russia; Prague, Czech Republic; and most recently a landmark event in Surabaya, Indonesia. Talk Fusion also hosts the Dream Getaway incentive vacation in Hawaii twice annually, with the next Dream Getaway scheduled for December 5 of this year.
"Early registration response has been amazing," said Allison Roberts, Talk Fusion's VP of Training & Development. "In less than 24 hours since we announced open registration for IMAGINE, ticket sales have been phenomenal!"
"We have Associates from all over the world coming to Tampa for IMAGINE," said Founder & CEO Bob Reina. "Our global presence has increased at an unbelievable rate over the years, and it just keeps getting bigger! We can't wait to have our Associates worldwide join us in Tampa!"
The IMAGINE Event will feature special receptions acknowledging Talk Fusion Leaders and Associates, including a Leadership Showcase featuring some of Talk Fusion's most prominent leaders; a Red Carpet Tour at the corporate office in Brandon, Florida; and a 3 Star & Up Reception where Associates who have attained that rank in the company may meet and mingle, as well as special VIP events for early registrants which include a private tour of the Talk Fusion yacht.
The main event itself will celebrate the accomplishments of Talk Fusion's independent Associates, provide new insights in the form of Live Diamond Rush Training with Founder & CEO Bob Reina, and give attendees an early look at what's on the horizon for this quickly growing brand.
"The excitement for IMAGINE is already building up," said Roberts. "Talk Fusion firmly believes that bringing our Associates to our hometown for IMAGINE shows that we appreciate their hard work and everything they do to make a difference in other people's lives, and with IMAGINE, we will do that and so much more!"
Registration for the IMAGINE has been open to Talk Fusion Associates since October 8, and VIP tickets are selling out fast. The event will take place April 4-7, 2014 at the beautiful Marriott Tampa Waterside Hotel in Tampa, Florida.
ABOUT TALK FUSION
Talk Fusion is a rapidly-growing global company dedicated to changing lives through providing cutting-edge personal and business Video Communication Products and a lucrative business opportunity. Talk Fusion's innovative products are marketed person-to-person by Independent Associates in more than 140 countries.
The company was founded in 2007 by CEO Bob Reina and introduced the world's first Instant Pay Compensation Plan. Talk Fusion adheres to the highest ethical business practices and is an accredited member of the BBB and the prestigious Direct Selling Association (DSA).
Reina firmly believes that "with great success comes greater responsibility." To that end, his commitment to giving back has benefited numerous charitable organizations. Learn more about us at www.TalkFusion.com, www.talkfusiongivesback.com and www.talkfusioninthenews.com and "Like" Talk Fusion at www.facebook.com/TalkFusion.