World Ventures Expands To Malaysia
October 18, 2013
By Tina Williams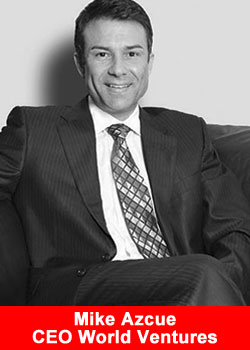 World Ventures™, the leading direct seller of vacation club memberships, announced its expansion into Malaysia today.
With the addition of Malaysia, WorldVentures' DreamTrips Memberships and business opportunity are now available in 25 countries, including three in Asia.
We launched in Malaysia for very specific reasons, World Ventures Co-Founder and CEO Mike Azcue said.
Asia is one of our fastest-growing regions, and Malaysia's latest economic growth is greatly benefitting consumers. Those reasons combined with Malaysians' passion for unique travel experiences make this country a natural match for both our vacation club memberships and business opportunity.
Malaysians can now become members of World Ventures' exclusive vacation club, giving them access to unique travel experiences spanning the globe as well as discounts on everyday entertainment options. Plus, entrepreneurs interested in creating an additional stream of income can now sell DreamTrips Memberships to people in any of WorldVentures' markets, including countries in Asia, Europe, North America and Africa.
World Ventures' launch in Malaysia is just another milestone for the company founded by two direct-selling veterans and visionaries, Wayne Nugent and Mike Azcue. I'm looking forward to introducing our company's message of helping people live a life of fun, freedom and fulfillment in Malaysia, Azcue said.
About WorldVentures:
World Ventures' is a social commerce, peer-to-peer marketing pioneer and one of the direct-selling industry's largest sellers of vacation club memberships. With a network of more than 110,000 Independent Representatives in 25 countries, the company's DreamTrips vacation club offers vacationers access to some of the most unique global and local travel and entertainment experiences available anywhere at any price.
The privately held company is headquartered in Plano, Texas.
Worldventures Top Earners – The estimated earnings are as follows:
[private_platinum]
[/private_platinum]
The average Top Earner in Direct Selling is earning approxiately $20,000 per month / $240,000 per year, based on 8,700+ rankings. Approx. 300 distributors are making $1+ million a year. The published distributor earnings are based on the confidential form, public sources, conventions, up and downline information and are estimated due to the dynamics in pay plans.