LifeVantage Appoints David Phelps As Chief Sales Officer
November 21, 2013
By Team Business For Home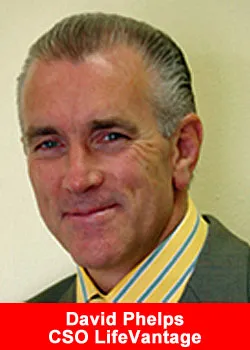 LifeVantage Corporation announced that David Phelps has accepted a role as global Chief Sales Officer for the company.
Mr. Phelps brings broad domestic and international network marketing experience to LifeVantage. He has extensive involvement in North America, Europe, Latin America, and nearly every major market in Asia. Mr. Phelps has worked with an impressive array of companies, including Synergy Worldwide, FFi, Jeunesse Global, MonaVie and Organo Gold.
His senior executive assignments have included significant roles in sales, marketing, international expansion, business development, training and nearly every facet of distributor-facing development work. The core of his network marketing philosophy comprises two essential concepts:
(1) Distributors are the most important asset of any company, and
(2) Leadership development is at the heart of network marketing success.
Mr. Phelps brings an extraordinary sense of passion to LifeVantage and he is dynamically committed to the mission and vision of the company. Mr. Phelps received his Juris Doctorate from Brigham Young University.
We are excited to add Dave's unique talent and expertise to our team. His deep executive experience in network marketing adds a new dimension to our distributor-first management focus. We expect Dave to make a strong impact on domestic and international sales, said Douglas C. Robinson, LifeVantage President and Chief Executive Officer.
LifeVantage is the best grassroots success, leadership development, and product story in all of network marketing today, Phelps noted. With this extraordinary foundation, the Company has powerful momentum to lead our distributor family to financial success and personal freedom.
About LifeVantage Corporation
LifeVantage Corporation (Nasdaq:LFVN), a leader in Nrf2 science and the maker of Protandim®, the Nrf2 Synergizer® patented dietary supplement, TrueScience® Anti-Aging Cream and LifeVantage® Canine Health, is a science-based nutraceutical company.
LifeVantage is dedicated to visionary science that looks to transform wellness and anti-aging internally and externally with products that dramatically reduce oxidative stress at the cellular level. The Company was founded in 2003 and is headquartered in Salt Lake City, Utah. For more information about LifeVantage, visit www.lifevantage.com.