MonaVie Imperial Black Diamond Akira Tamai Charged By Japanse Tax Authorities
November 6, 2013
By Team Business For Home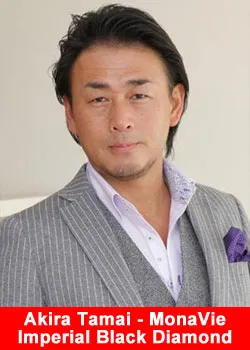 According to The Japan News:
A top salesman for the U.S. multilevel marketing firm MonaVie Inc. neglected to report any of the income he obtained from selling the company's juice products, failing to pay about ¥100 million (About USA $1 million) in taxes, sources said.
The Tokyo Regional Taxation Bureau has reported the suspected infringement of the Income Tax Law by Akira Tamai to the Tokyo District Public Prosecutors Office, though the income has since been declared and the taxes paid, the sources said.
The 45-year-old resident of Setagaya Ward, Tokyo, is the top salesman among the firm's reported 100,000 members in Japan and has been the subject of several trade magazine features. Tamai became a MonaVie member around 2008, when he began selling juice made from acai, the fruit of an Arecaceae family plant native to Brazil, according to a person familiar with the case.
He is suspected of not reporting income or paying taxes for any of the about ¥280 million (About USA 2,8 million) he made through MonaVvie from 2010 to 2012.
According to MonaVie Japan Co., based in Minato Ward, Tokyo, members make money by buying juice at a discount from the company and selling it at a markup to friends and acquaintances. Members are also compensated for sales made by people in their membership group, which comprises members they introduced, members those people introduce, and so on.
Depending on how much they sell, members are granted titles, such as "Ruby" or "Emerald," with higher ranks earning greater compensation.
Tamai's group reportedly has about 70,000 people, a major portion of MonaVie members in Japan. In 2012, he was granted the company's elite "Imperial Black Diamond" title.
He is said to be virtually guaranteed to receive an annual ¥200 million (About USA $2 Million) from his group's sales, which he has spent on foreign luxury cars and living expenses.
"His knowledge of tax matters was lacking. He intends to properly pay his taxes in the future," Tamai's lawyer said.
Multilevel marketing businesses work by having salespeople expand their sales networks by soliciting new salespeople, which brings in profits from commission and other avenues. Also called network marketing, the practice conforms with the law, unlike pyramid schemes, which are illegal.
However, there is constant pressure to invite new members to bring in profit. Solicitation methods and other aspects are regulated under "multilevel marketing" in the Specified Commercial Transactions Law. Founded in 2005 in the United States, MonAvie is now established in about 25 countries worldwide.
The firm's main product is juice made from acai and 18 other fruits. A 750-milliliter bottle sells for around ¥4,000, and MonAvie claims that drinking 120 milliliters per day is good for one's health. The company does not engage in store-based sales.
MonaVie began full-fledged expansion into Japan around 2008, and Tamai was an early member. He conducts 400-500 seminars per year on such topics as "The Secret to Success in Anything." Tamai's activities have been featured several times in multilevel marketing trade magazines.
In an interview, he said: "When you see someone cleaning a public toilet, try telling them, 'thank you.' When you become an honest person, it will change your appearance and people will be attracted to you."
The company said it has provided its members with guidance on how to properly file tax returns through pamphlets, bulletins, members-only webpages and other means.
Source: The Japan News