Nu Skin Encouraged By The Chinese Communist Party
November 25, 2013
By Team Business For Home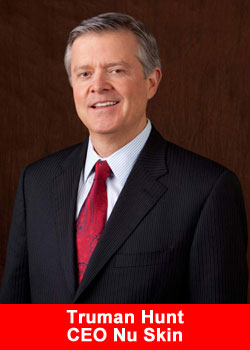 According to the Global Times Of China:
Nu Skin Enterprises (NSE) said it was encouraged by the signals for further reform following the Third Plenary Session of the 18th Communist Party of China Central Committee.
Steven J. Lund, NSE chairman of the board, said the company was highly impressed by China's economic growth during the past three decades of reform and opening-up, and as a foreign business in China for 10 years, NSE has full confidence in China continuing such efforts.
We feel as outsiders that China is doing the right kinds of things to help its economy and its people, and the opening up of free markets in China will also facilitate our success as a company here, Lund said in an exclusive interview with Xinhua this week.
The opportunity we have to bring our products and business to China is interrelated with the government's reforms to the market place, Lund said.
He said that it would be unfortunate if the historic growth of China stalled because of lack of imagination, and described the Chinese leadership's reform initiatives as innovative in improving business efficiency and benefiting both the Chinese and world markets.
China will deepen its economic reform to ensure that the market plays a decisive role in allocating resources, according to the communique released after the four-day plenum, which concluded on Nov. 12.
The government has vowed to transform government functions and reduce administrative interferences to the market, which are blamed for high administrative costs, low efficiency and corruption.
Lund said that the comprehensive reforms marked a milestone in answering the important question of which way and where to go for China.
Eyeing the massive consumption potential of China's growing middle-class, the company plans to expand investment in China amid its robust growth in the Greater China markets, the biggest revenue contributor for the company this year, said Andrew Fan, NSE Greater China regional president.
Fan forecast that the company's revenue would hit three billion US dollars this year, half of which is expected to be generated in the Greater China markets.
Headquartered in the United States, the New York-listed company began official operations in China in 2003. It was also among the first group of foreign-invested companies to receive a direct-selling license in the country.
Source: Global Times