Organo Gold Announces European Convention
November 24, 2013
By Tina Williams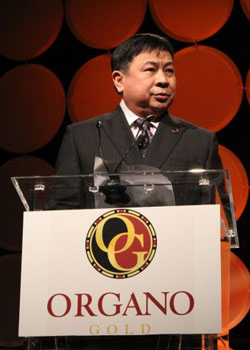 Organo Gold announced it will be hosting it's first ever European convention in Rome, Italy April 4-6, 2014. According to OG:
Distributors in Europe have the opportunity to meet OG Leaders at the very first Organo Gold European Convention. Join us in Rome for this historical event where you'll get the opportunity to celebrate the incredible success of OG Europe and experience first hand what it means to be a part of the Organo Gold Family.
Seize this rare opportunity to learn from our CEO & Founder Bernardo Chua, Global Master Distributor and Co-Founder Shane Morand and Executive Vice President of International Sales & Marketing Holton Buggs as they share the Company's vision with you!
Rome is a cultural center of Europe and one of the most beautiful cities in history. Join Diamonds, Distributors and our OG Executive Team at one of the most exclusive locations in Italy and change the way business is done in Europe forever!
Organo Gold is founded by Bernardo Chua, in 2008 and is on a mission, spreading the knowledge of Ganoderma to the four corners of the world and partnering with thousands of people along the way.
Using the cost effective network distribution system to deliver these Ganoderma products, more of every dollar is shared with the growing Organo Gold family world-wide.
Products
Coffee, Tea, Vitamins, Soap, toothpaste By infusing gourmet coffee and an ever expanding product line with the power of the Ganoderma Lucidum herb, Organo Gold has scientifically developed a healthy alternative to regular coffee that not only tastes great, but makes people feel great.
The Scientific Advisory Board: Dr. Irma Prado is one of the Chief Medical Consultants. Dr. Prado is a world renowned Physician, Academic and Scholar and a graduate of the Faculty or Medicine and Surgery at the University of Sto. Tomas, Manila, Philippines. Mr. Li Ye is the Founder and C.E.O. of Organo Gold's partner, Xianzhilou Biology Research Corporation in Fujian China. Dr. Xiaoyu is a partner of Xianzhilou Biology in Fujian, China. Mr. Ye and Dr. Xiaoyu are involved in the scientific, medical and technical aspects of assuring that Organo Gold has the best, 100 percent certified organic Ganoderma in the world.