Empower Network Names Jonathan Cronstedt As New CEO
December 4, 2013
By Team Business For Home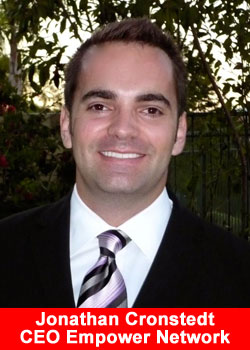 Software and web marketing company Empower Network named Jonathan Cronstedt as the company's new chief executive officer.
Empower Network co-founder David Wood, who previously served as the company's CEO, now becomes the company chairman.
Empower Network has experienced significant growth in the company's first two years in business. One of Cronstedt's top priorities is to manage the company's rapid growth and development as well as its brand and product development. Currently, Empower Network has 38,000 affiliates and 80,000 members.
Cronstedt has tremendous experience leading direct marketing and Internet-based companies as the previous CEO of Digital Marketer and as the vice president of business development for Kajabi. He is also the chairman of Prodigy Consulting Group, a full-service finance and consulting organization.
We are excited to have Jonathan to guide the growth of the Empower Network company and brand, said President David Sharpe. Jonathan has the leadership experience in our industry to bring Empower Network to even greater levels of success.
Jonathan worked in previous executive leadership positions for mortgage, finance, digital publishing and direct sales companies.
It is a time of great opportunity for Empower Network as the company continues to grow and mature and we focus on enhancing our products, customer experience and brand, Cronstedt said.
Cronstedt, 32, holds a Bachelor of Arts in Business Administration from Concordia University-Irvine. During his free time, he enjoys spending time with his wife, Nicole, and savoring a glass of Justin Isosceles wine.
Empower Network offers six unique business and marketing software products and tools, including its signature blogging system, video hosting, training and coaching packages for start-up, home-based, small and medium businesses.
Headquartered in St. Petersburg, Fla., David Wood and David Sharpe founded Empower Network in 2011 to empower small-business owners to make money online without dealing with the technical, marketing, payroll and overhead challenges that frustrate many entrepreneurs and small-business owners.
Empower Network's signature product is a viral blogging system geared toward helping its 38,000 affiliates and 80,000 members use the Internet to grow their businesses online, taking them from disenfranchisement to full self-empowerment through the use of blogs, direct sales and online marketing. Visit www.empowernetwork.com for more information.