Forbes Backs Herbalife
December 12, 2013
By Tina Williams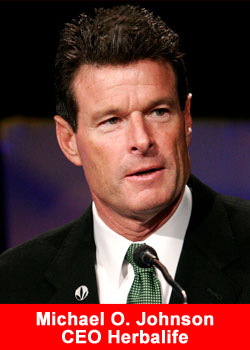 In an article titled, Hedge Fund Manager Wages War on the American Entrepreneur, Forbes is backing Herbalife in it's continuous battle against Bill Ackman:
Bill Ackman of Pershing Square Capital Management has spent a lot of time and energy acquiring shares of stock in Herbalife and attempting to short sale those shares – while working to have the decades-old Herbalife sales program declared a pyramid scheme!
By doing this, I'd actually venture to say he's waging war on the American entrepreneur – those men and women who have bought into the Herbalife promise of health and profits.
What is Herbalife? Plain and simple: Herbalife International is a multi-level marketing company that sells nutrition, weight management and skin-care products. The company has more than 6,200 employees worldwide and reported net sales of more than $4 billion in 2012.
Herbalife has been around since 1980. There is no pyramid scheme in history that has lasted 33 years. I don't proclaim to be a mathematician, but I do know that when you need more and more recruits to pay off earlier investors you soon run out of new recruits.
If Herbalife were a true pyramid scheme, you, me and the newspaper carrier would all be recruits by now.
But controversy is nothing new to Ackman.
In 2010, Ackman's firm Pershing Square Capital Management acquired 39 million shares of J.C. Penney at $25 a share. This year, Ackman sold his entire stake – at a nearly $500 million loss. Ackman quit the J.C. Penney board earlier this summer following disagreements about the company's leadership. The company has since made efforts to rebuild its worth.
While Ackman is trying to gain profit by waging war, I'm not the only one to find his battle foolish… so does the stock market. Since Ackman began his crusade, Herbalife's stock value has risen tremendously. Herbalife stock has risen by 116% in 2013.
"Since Ackman declared his short, shares of Herbalife have skyrocketed,"Business Insider reported in late November. "What's more is a number of hedge fund managers have piled on by going long on the stock. Those who are long include George Soros, Richard Perry, Stanley Druckenmiller, and Ackman's rival Carl Icahn. Daniel Loeb was long for a few weeks in the first quarter, but sold his stake for a profit. Icahn has said he believes Ackman will be the victim of the 'mother of all short squeezes.'"
Back to Ackman's outlandish claim that Herbalife is a pyramid scheme.
Several years ago, while writing on behalf of the U.S. Federal Trade Commission, general counsel Debra A. Valentine noted: "Pyramid schemes now come in so many forms that they may be difficult to recognize immediately. However, they all share one overriding characteristic. They promise consumers or investors large profits based primarily on recruiting others to join their program, not based on profits from any real investment or real sale of goods to the public."
Ackman needs to read this line over and over rather than spend his time creating a 342-page slide presentation on why he thinks the nutritional supplement seller will go to $0.
Even after suffering about $500 million in losses, Ackman stands by his accusations and beliefs. In fact, he was recently quoted by all the major news outlets proclaiming he will take his Herbalife short bet as far as he needs.
"I will go to the ends of the earth to shut this company down," he said.
He may be better directed to the Herbalife website that notes: "Our Mission is to change people's lives by providing the best business opportunity in direct selling and the best nutrition and weight-management products in the world."
Products! There's the magic word. Herbalife reps actually sell products. They sell them to you; they sell them to me. And there are a lot of people who swear by the health properties of the Herbalife products…
The article continues on the Forbes website.