Hank C. Hill, M.D., Leading Oncologist, Joins Zrii
December 28, 2013
By Team Business For Home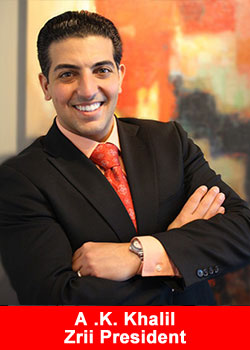 Zrii LLC today announced that one of America's leading oncologists, Hank C. Hill, M.D. of St. Vincent Surgical Associates in Jacksonville, Florida, has joined Zrii as an Independent Executive.
Dr. Hill is a renowned physician, researcher and author whose articles have appeared in the Journal of Clinical Oncology, Cancer Research and the Journal of the National Medical Association, among other publications.
I believe in educating patients on not only the management of cancer but also how to become a cancer survivor through prevention, cancer screening – including genetic testing for high-risk cancer patients – state of the art surgical treatments, and holistic patient management with lifestyle changes and nutrition as well as partnering with industry veterans C. Thomas Gambrell, Gerald D. Rogers, L. Rachel Valentine and the entire GOTEAM ZRII family, said Dr. Hill.
In making today's announcement, Zrii President A. K. Khalil said, I'm elated to welcome Dr. Hill to the Zrii family. What impresses me even more than his outstanding credentials is his genuine passion for the wellbeing of everyone he meets. Dr. Hill represents the future of integrative medicine, offering his patients the best possible choices so they can live longer, healthier lives.
Dr. Hill is a fellowship-trained surgical oncologist who is originally from Queens, New York. He earned his B.S. degree in biology/pre-medicine at the Brooklyn Campus of Long Island University in Brooklyn, New York, before completing his medical degree at Morehouse School of Medicine in Atlanta, Georgia. While finishing his surgical residency training at Harlem Hospital Center – Columbia/Presbyterian Medical Center in New York City, Dr. Hill completed a two year surgical oncology research fellowship at MD Anderson Cancer Center in Houston, Texas.
After his surgical residency training, Dr. Hill completed a year of Surgical Intensive Care/Critical Care Fellowship and Endoscopy at Harlem Hospital before acceptance to the Surgical Oncology Fellowship at Roswell Park Cancer Institute (RPCI) in Buffalo, New York. The fellowship at RPCI included one year of research and two years of clinical training which included endoscopy and endoscopic ultrasound training. Dr. Hill remained on staff in the Division of Gastroenterology Malignancies for two years before becoming Section Head of Surgical Oncology at St. Vincent Medical Center in Erie, Pennsylvania.
Relocating to Florida, he joined the multidisciplinary team of oncologists at 21st Century Oncology of Jacksonville. In September 2013, Dr. Hill moved to the St. Vincent Surgical Associates of St. Vincent Healthcare in Jacksonville where he provides advanced surgical oncology services to the community.
Zrii was founded in 2008 with the goal of enhancing the health and happiness of people around the world through all-natural nutrition and wellness products. Zrii partners with the world-renowned Chopra Center for Wellbeing, headed by Dr. Deepak Chopra, to create premium health products that integrate ancient wisdom with modern science.
Zrii products are sold through a network of Independent Executives throughout the United States, Canada, and Latin America.