Talk Fusion Reveals 3-in-1 Product Talk Fusion CONNECT
December 11, 2013
By Team Business For Home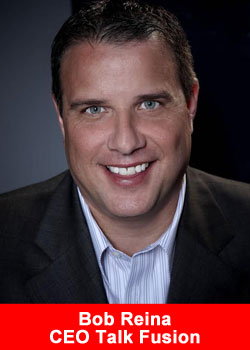 Florida-based video communication and relationship marketing company Talk Fusion surprised the winners of its Talk Fusion Dream Getaway Hawaii vacation incentive with an in-depth look at its forthcoming product Talk Fusion CONNECT.
The independent Associates who successfully qualified for the trip were treated to a full walk-through of the product, which is the first in the world to implement new real time communication (RTC) technology that produces a faster, more robust video communication experience.
Talk Fusion VP of Training & Development Allison Roberts stunned a full house in attendance for Friday's leadership meeting at Maui's Grand Wailea Resort with a detailed overview of Talk Fusion CONNECT, the company's hotly anticipated Live Broadcasting, Video Conferencing and Desktop Share product.
Roberts gave them a look at Talk Fusion CONNECT's many features, taking them through the simple tasks of scheduling a Live Broadcast, inviting attendees and hosting a presentation. She went on to outline the benefits that make CONNECT a truly unique product that will set the standard for video communication by offering far more than its competition right out of the gate.
Guests also enjoyed a first look at Talk Fusion's redesigned Back Office and Video Communication Center, the online pages where Associates sign in to manage their business and Customers and Associates access the company's products, which include The World's First Video Newsletters, Video Email, E- Subscription Forms, Video Auto Responders, Video Blog, Video Share and social network the Fusion Wall. Talk Fusion CONNECT will both replace and improve upon the company's current, highly regarded Video Conferencing and Live Broadcasting products.
"We are very proud of what we were able to accomplish with Talk Fusion CONNECT," says Founder & CEO Bob Reina. "We're confident as a company that this product raises the bar for the entire video communication industry."
Talk Fusion CONNECT enters closed beta testing next week, and will be released shortly thereafter.
ABOUT TALK FUSION
Talk Fusion is a rapidly growing global company dedicated to changing lives through providing cutting-edge personal and business Video Communication Products and a lucrative business opportunity. Talk Fusion's innovative products are marketed person-to-person by independent Associates in more than 140 countries.
The company was founded in 2007 by CEO Bob Reina and introduced the world's first Instant Pay Compensation Plan. Talk Fusion adheres to the highest ethical business practices and is a member of the prestigious Direct Selling Association (DSA). Reina firmly believes that "with great success comes greater responsibility." To that end, his commitment to giving back has benefited numerous charitable organizations. Learn more at www.TalkFusion.com, www.talkfusiongivesback.com and www.talkfusioninthenews.com and "Like" Talk Fusion at www.facebook.com/TalkFusion.