Tupperware Announces Two New Group Presidents
December 4, 2013
By Tina Williams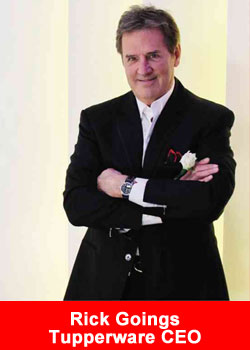 Tupperware Brands Corporation today announces that effective January 1, 2014 Asha Gupta and Patricia A. Stitzel will be promoted to Group President, Asia Pacific and the Americas, respectively. Christian E. Skroeder, current Group President Asia Pacific, will transition to Executive Vice President, Tupperware Brands. Rick Goings commented, These key leadership changes are a result of planned transitions and reflect our continued focus on developing young leaders and succession planning for critical roles in our organization.
Asha Gupta, currently Area Vice President, India, Tupperware Brands Philippines and Nutrimetics Australia/New Zealand, will become Group President, Asia Pacific. Asha has 15 years of Tupperware leadership experience in sales development, marketing, and operating unit and portfolio leadership working in business units across Europe and Asia Pacific. She has demonstrated vision for enhancing our business to attract new generations through social media strategies.
Patricia A. Stitzel, currently Senior Area Vice President, Central Europe, will become Group President, Americas. Tricia brings over 16 years of Tupperware experience to her new role. Her experience includes leadership roles in human resources in the United States and Canada, as well as in Europe and Worldwide, and operating portfolio leadership throughout Europe since 2008. She has managed various portfolios covering 20 countries in Europe, encompassing a variety of business models and cultures. Tricia will assume leadership of the Americas from Simon C. Hemus, President and C.O.O.
Christian E. Skroeder, current Group President, Asia Pacific, will transition to Executive Vice President, Tupperware Brands, reporting to Rick Goings, Chairman and C.E.O. Christian has a broad background and has served successfully in several key leadership roles within Tupperware. To leverage his skills and experience, Christian will work with targeted markets to ensure continued positive momentum in those doing well and improved performance where that is needed.
Rick Goings added, I'm extremely proud to promote Asha and Tricia to group presidents. They are young, dynamic leaders with proven track records at Tupperware and great potential in the future. I also look forward to Christian's experience helping us both fix challenged markets and accelerate growth in others.
Tupperware Brands Corporation is a portfolio of global direct selling companies, selling innovative, premium products across multiple brands and categories through an independent sales force of 2.8 million. Product brands and categories include design-centric preparation, storage and serving solutions for the kitchen and home through the Tupperware brand and beauty and personal care products for consumers through the Armand Dupree, Avroy Shlain, BeautiControl, Fuller Cosmetics, NaturCare, Nutrimetics, and Nuvo brands.