Dallas and Rylee Baldri Join Zrii
January 31, 2014
By Team Business For Home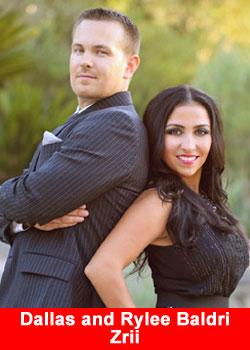 Dallas and Rylee Baldri, the founders of The HD Group, a sales and marketing organization based in Phoenix, Arizona, USA and a top North American income earner in network marketing, joins Zrii.
Dallas Baldri, who holds an MBA and has years of experience as a financial services professional, is passionate about building relationships with good people, living life in high definition, and helping others create financial freedom.
He was so impressed by Zrii that after carefully examining several other opportunities, he finally decided to join the company as an Independent Executive.
"The leadership at the company couldn't be better. You have an iconic and legendary entrepreneur in the founder and CEO Bill Farley; a dynamic, sharp businessman in President A.K. Khalil; and a very successful network marker in Vice President of Global Sales Matt Ward.
There is no question these are the right partners for us," says Dallas Baldri. "You have the industry's only products endorsed by the world's most credible doctor, Deepak Chopra. You have a comp plan that enables people to become profitable their first week in their spare time. And you have tools that allow for easy duplication. We saw no holes in our evaluation of Zrii!"
Dallas and Rylee currently reside in the Phoenix, AZ area with their five kids. Family is very important to them and they want to attract others who have the same values.
"They say timing is everything, well that is absolutely true!" says Rylee Baldri. "Zrii is a company that is aligned with our values and shares our vision that we can call home. This is an exciting time."
The Baldri's have reported there is nothing like the opportunity offered at Zrii for people with limited financial resources who want to plug into a system that allows them to become profitable their first week in business.
Zrii President A. K. Khalil welcomed Dallas and Rylee, saying, "I am so thrilled with the many leaders who are joining the Zrii movement. The HD Group partnering with us is another indication of our direction as the next billion dollar company. Zrii is truly the definition of excellence."
Contact Details:
To connect with Dallas and Rylee go to www.Facebook.com/DallasBaldriHD or www.Facebook.com/TheHDCouple or www.TheHDLife.net.
You can also text TheHDLife to 41242. For more information on working with their team visit.
Zrii was founded in 2008 with the goal of enhancing the health and happiness of people around the world through all-natural nutrition and wellness products. Zrii partners with the world-renowned Chopra Center for Wellbeing, headed by Dr. Deepak Chopra, to create premium health products that integrate ancient wisdom with modern science. Zrii products are sold through a network of Independent Executives throughout the United States, Canada, and Latin America.