Empower Network Donates $120,000 in 2013 to Nonprofit Organizations Nationwide
January 2, 2014
By Tina Williams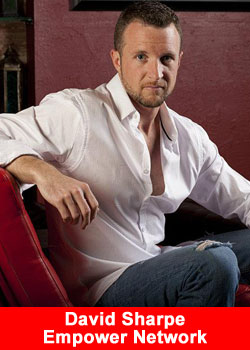 Prior to founding Empower Network, co-founders David Sharpe and David Wood experienced homeless life themselves. The successful company has more than 200,000 customers and grew sales from zero to $60 million in less than two years. Despite such gains, the two entrepreneurs' pasts continue to influence them strongly, and they run an organization committed to helping those less fortunate.
At Empower Network, we promote a culture that empowers others in their lives and their work, said CEO Jonathan Cronstedt. Remembering that two previously homeless men founded Empower Network is a constant reminder to work toward the betterment of others. As we continue our growth, we'll also continue our dedication to those without homes by sharing our resources to provide food, clothing and shelter to those in need.
In the first quarter, at an Empower Network event, the company presented the Austin Habitat for Humanity with a $66,000 donation, which built an Austin-based home, dedicated in July, for a mother and her children.
During Empower Network's second-quarter conference, attendees raised more than $37,000 for the American Red Cross of Eastern Massachusetts to aid the victims of the Boston Marathon bombings.
In an effort to expand its reach and focus its giving, Empower Network announced a partnership with 100,000 Homes, a national non-profit organization dedicated to finding permanent housing for 100,000 vulnerable and chronically homeless individuals and families nationwide.
This year Empower Network donated a total of $20,000 to 100,000 Homes and its local partners. The company's first donation in the partnership was at its third-quarter conference in Denver Empower Network donated $10,000 to Denver's Road Home, a homelessness charity and 100,000 Homes partner. The company donated another $10,000 during its fourth-quarter regional conference tour to OC Community Services in Anaheim, Calif.; CitySquare in Dallas, Texas; Community Partnership in Washington D.C.; and 100,000 Homes in Orlando, Fla.
Continuing with a yearly company tradition, more than a dozen employees donated time on Thanksgiving to assist Pinellas Hope in feeding and serving the homeless in the St. Petersburg, Fla., area. The company also donated two serving trays to Pinellas Hope for future use.
Empower Network offers six unique business and marketing software products and tools, including its signature blogging system, video hosting, leadership training and sales coaching packages for start-up, home-based, small and medium businesses. Headquartered in St. Petersburg, Fla., David Wood and David Sharpe founded Empower Network in 2011 to empower small-business owners to make money online without dealing with the technical, marketing, payroll and overhead challenges that frustrate many entrepreneurs and small-business owners. Empower Network's signature product is a viral blogging system geared toward helping its 38,000 affiliates and 80,000 members use the Internet to grow their businesses online, taking them from disenfranchisement to full self-empowerment through the use of blogs, direct sales and online marketing
Source: Broadway World