Jeunesse 2013 Worldwide Sales At $256 Million Up 121%
January 10, 2014
By Team Business For Home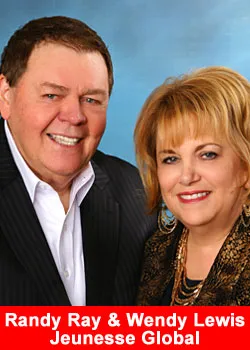 Jeunesse Global has just released record-breaking earnings for 2013: they are celebrating a staggering $256 million in sales revenue, closing out the year with an increase of 121% from 2012.
Over 28,000 new Distributors joined the company in the month of December alone, demonstrating exponential growth and momentum since the young company's inception.
These developments, along with $33 million dollars in sales revenue for December, has helped the company reach exceptional new heights.
"We are extremely excited and encouraged by the company's progress in just our 4th year of business. It has become abundantly clear that Jeunesse is a company that continues to deliver with our cutting-edge youth enhancement products, lucrative financial rewards plan, and unparalleled global platform.
Most of all, we place a tremendous sense of pride in the family-oriented culture of Generation Young that has been established all over the globe, and in the thousands of lives being impacted by Jeunesse. We give our sincere gratitude to the Jeunesse family from around the world who continue to passionately make our company such a huge part of their lives, while setting up the foundation for 2014 to be the company's biggest year to date.
There is clearly a collective focus and determination to make 2014 a monumental year for the company," said Scott Lewis, Jeunesse Global's Chief Visionary Officer.
Throughout 2013, Jeunesse was involved in a number of significant exploits: the Direct Selling Association's bestowment of the prestigious Rising Star Award, as well as being included in Direct Selling News' Global 100 List, have contributed to the company's success.
Moreover, the 2013 edition of Direct Selling News' Special 100 Report assessed Jeunesse as the third fastest growing company on record, with an increase of 94% in sales revenue for the previous year. With its latest accomplishments, Jeunesse is cementing the path to an auspicious 2014.
About Jeunesse Global
Jeunesse is a leading network marketing company devoted to encouraging healthy and youthful living. Their research focuses on adult stem cell technology, telomere support, DNA repair, and nutrigenomics.
Products are made in the U.S.A. and are exclusively formulated for Jeunesse. With a multi-lingual customer service, back office support team, global enrollment system, and in-house programming already in place, the company is fully operational in 20 offices around the world. Its distribution channels extend to over 85 countries.
For more information, please visit www.jeunesseglobal.com. Jeunesse and the Jeunesse logo are registered trademarks of Jeunesse Global, LLC in the U.S. and/or other countries.