Kevin Giguere is Seacret Direct's Newest Ring Earner
January 4, 2014
By Tina Williams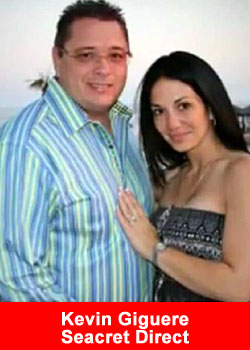 Seacret Direct celebrates it's newest ring earner, Kevin Giguere. A ring earner is someone who has earned at least $100,000 in a 12 month period.
On his fan page, he addresses his followers:
I want to personally thank everyone on our team for successes like this. I did not do this on my own by any means. We are building a fantastic team with Seacret and I owe so much to the team. Achievements like this wouldn't happen without you. We doing big things in 2014 so get ready! Again, thank you all!!!
According to Seacret Direct's website, their mission statement is as follows:
Mission Statement
We at SEACRET™ personally hold ourselves accountable to a culture of:
Building superior and loyal relationships with a commitment to our partners, leaders, sales force, and clients, and a spirit of entrepreneurship.

Empowering our people with tangible skills to create sustainable success for their families and future.

Maintaining a winning attitude, continuously evolving, and constantly pursuing both personal and professional excellence.

Recognizing and celebrating the achievements of others.

Never giving up on our dreams, with the ultimate goal of creating a successful business community that celebrates life with happiness, kindness, gratitude, joy, and humility.