Malaysia Leader Shah Khan Joins Jeunesse Global
January 26, 2014
By Team Business For Home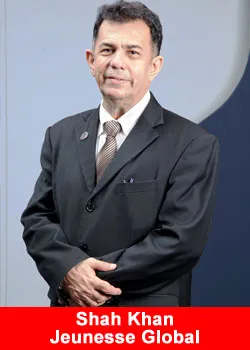 ­
Jeunesse Global announced that Shah Khan, a network marketing leader in Malaysia has joined the company.
During his eleven-year career in direct sales, Shah Khan has proven himself to be an extraordinary leader whose record-breaking achievements have created one of the industry's fastest-growing teams.
Counting an astonishing 250,000+ people operating in his network, Shah Khan is celebrated as Malaysia's most-connected leader.
"To me, the greatest joy is seeing others become successful," says Shah Khan, who looks forward to being a part of the JEUNESSE culture, where he sees huge potential for rapid growth in many global markets. He wants to play a big part in its expansion and will surely share in its success.
Impressed by the innovative products, global infrastructure and strategic marketing tools offered by JEUNESSE, Shah Khan explains: "I was looking for the 'one thing' to tell my team—and the whole world—Why join Jeunesse?
And I found many exceptional reasons! The founders, Wendy Lewis and Randy Ray, CVO, Scott Lewis—and the entire team in Orlando—have set the standard for their management worldwide to be distributor-oriented and very friendly.
They strictly practice the importance of putting the distributors first, and making them feel at home. Jeunesse has also developed a simple and user-friendly online system, and the Marketing plan is unbeatable—mind blowing—and couldn't be easier."
Shah Khan looks forward to bringing his network marketing experience and leadership strength to the Jeunesse family and to breaking future world records—a practice that has become his forte. "The true beauty and joy in life does not depend on how happy you are; rather, it depends on how many people are happy because of you," Shah Khan cites as his life philosophy.
He believes with the JEUNESSE platform, he can help create dozens of millionaires in the shortest time, and truly change the lives of these people and their families.
"We feel very honored and privileged to have Shah Khan as part of the Jeunesse family, with the purpose and mission of changing people's lives all over the world for the better. 2014 is certain to be a very explosive year," says Scott Lewis, the Chief Visionary Officer of Jeunesse.
About Jeunesse
Jeunesse is a leading network marketing company devoted to encouraging healthy and youthful living. Their research focuses on adult stem cell technology, telomere support, DNA repair, and nutrigenomics. Products are made in the U.S.A. and are exclusively formulated for Jeunesse.
With a multi-lingual customer service, back office support team, global enrollment system, and in-house programming already in place, the company is fully operational in 20 offices around the world. Its distribution channels extend to over 85 countries. For more information, please visit www.jeunesseglobal.com. Jeunesse and the Jeunesse logo are registered trademarks of Jeunesse Global, LLC in the U.S. and/or other countries.